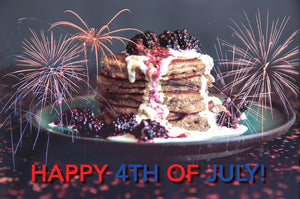 4th of July Celebration - Ultimate Guide
The Fourth of July is always focused on the grilling outdoors. The ribs, burgers, hot dogs and more take up the attention of the guests and the person manning the bbq. 
But has there ever been an emphasis on what happens after the barbecue and fireworks? With Cinder, you can keep the 4th food coming, and make new traditions.
After the fireworks have died down and the last sparkler has gone out, your guests may still be hungry. Keep them happy with the ultimate grilled cheese. 
Bacon and avocado pair perfectly with an aged gruyere, or caramelized onions for a veggie version for this all time favorite. Burnt edges and unmelted cheese are a thing of the past. Cinder will guarantee perfectly crisp, decadently gooey grilled cheese sandwiches every time.
Treat the kids to a late night sweet treat, pancakes! The buttermilk pancakes with orange ricotta and macerated blackberries will complete the night.
Cinder's sophisticated temperature control makes cooking perfect, fluffy pancakes a walk in the park. Cook pancakes evenly using the Cinder Grill at 400°F. Use your own pancake batter recipe or give our buttermilk pancakes a try for the perfect end to the 4th of July. Even top with red, white, and blueberries to make it even more festive!
Never Overcook Again
Try this on Cinder Grill Today