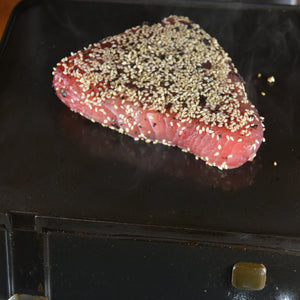 Cook Fish? Enjoy Perfectly Cooked Results From The Cinder
Tasty, healthy, delicate fish.  Seafood is delicious and nutritious, high in protein and sometimes in good fats as well. It provides a major proportion of many planned diets, such as the Ketogenic and Mediterranean Diets. However, fish is notoriously difficult to cook. It seems to go from undercooked to dry and collapsing in mere moments. Meanwhile, seafood such as shrimp, scallops, and squid toughen into rubber when touched by excess heat. The solution, of course, is the Cinder Grill. Its temperature control makes it easy to cook fish and it turns out perfectly cooked results every time. 
Perfectly Cooked Fish Every Time 
The sous vide method works perfectly for fish, especially tender white fish. Bringing delicate fish gently to the target temperature ensures that flavor and texture stay intact and overcooking can't happen. Furthermore, the Cinder Grill's method of sous vide is an improvement on perfection. There's no need for a water bath or plastic bags with the Cinder Grill. Also, the Cinder cooks far faster than traditional sous vide. In addition, the Cinder's internal air circulation maintains a pleasant texture, while traditional sous vide often produces soggy results. Use the Cinder Grill to cook fish, whether fillets, steaks, or whole, and see for yourself. Here's a sample recipe from our files: Sea Bass with Coconut Curry. 
Oily Fish Without The Odor
Another benefit of the Cinder Grill's gentle cooking method is the lack of steam, smoke, and smell. Avoiding high heat removes the energy that drives cooking fumes throughout your kitchen. So if you'd like to cook fish but fear stinking up your house, the Cinder Grill neatly solves this problem.  This is especially true for oily fish, rich in healthy Omega-3 fats but also infamous for releasing bad cooking smells. Furthermore, the Cinder's sear is so brief and intense it too releases at most a few wisps of steam. Enjoy healthy fish in a nice-smelling home with the Cinder Grill! Here are two recipes which demonstrate the Cinder's potential: Salmon Fillet and Seared Tuna. 
Shellfish, Delicate Fish
In some ways, shellfish have the opposite problem from finned fish. When overcooked, rather than fall apart, they toughen up. Of course the Cinder Grill's temperature precision brings them to the perfect texture. In fact, the Cinder's single-degree accuracy is useful when cooking shellfish for particular results, such as a fresh texture for this Chilled Shrimp Ceviche. In addition, the speed and intensity of Cinder's searing function prevents toughness while providing beautiful taste and color to these Seared Scallops. For extra insurance against sticking while searing, you can safely use some parchment paper.
Cook Fish With Tentacles and Ease
Squid and octopus are in a class by themselves. Not only do they have tentacles, and an unusual body structure, but they cook differently from other seafood as well. For instance, squid can be delicate fish or sturdy stewers. They can either be seared quickly, for a flavor some chefs have called 'top of the ocean', or slow-cooked fo a long time for a richeer, deeper, 'bottom of the ocean' flavor. Anything in between produces rubber bands instead of a meal. 
Octopus, on the other hand, needs to be cooked low and slow. The Cinder Grill accomplishes this effortlessly, holding the octopus steady until its proteins loosen and its collagen melts. Once again, no matter what creature of the sea you're cooking, the Cinder is your key to perfectly cooked results. Eat and enjoy more fish with the Cinder Grill!
Never Overcook Again
Try this on Cinder Grill Today