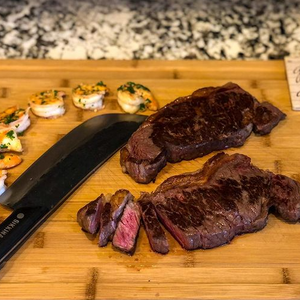 Cooking With Dad and the Cinder Grill
This Father's Day, give your Dad the most precious gift of all: the gift of time spent together. Cook with him, preferably on the best kitchen appliance available: the Cinder Grill.  Enjoy authentic grilled flavor indoors without smoke or ash, at your convenience. Furthermore, Dad will use the Cinder much more often than those golf clubs or novelty ties.  The Cinder is accessible day or night, rain or shine, just as constant as fatherly care.
Father's Day: Easy Celebration
Father's Day is all about what pleases Dad, and what Dad wouldn't be pleased by delicious, easy food? With the Cinder you can grill up some Ribeye Tacos, Chicken Wings, or Bacon Wrapped Burgers and enjoy them together. Also, cleanup is quick and easy, leaving plenty of time to relax and chat and absorb some more fatherly wisdom.  Furthermore, the Cinder Grill is a 
versatile gift for Dads who like to explore cooking, while making the perfect steak day in and day out for meat lovers.  Father's Day and every day the Cinder reliably produces tasty food.
Grill Foolproof Meals
One of the reasons why so many people turn to pre-made food is that cooking can be unpredictable. One day following the recipe produces succulent results; the next, a charred mess.  However, the Cinder Grill produces reliable results time after time, with its single degree precision and temperature monitoring. It's as reliable as your Dad is. You can rest assured that your Father's Day gift to him is an ongoing series of delicious meals in the easiest way possible.
The Gift That Keeps On Giving
When it comes to tasty cooking, the Cinder Grill is fun, easy, and reliable on Father's Day and for a year and more afterwards. So spoil your Dad on his special day, confident that the food won't ruin it! Make an elegant Chateaubriand tenderloin roast, or a perfectly ripe Heirloom Tomato and Mayo Sandwich, or a savory Caesar Salad with Parmesan Fricos. After the Father's Day festivities are over he'll have months and months of delicious meals ahead of him, thanks to your thoughtfulness and the Cinder Grill.
Never Overcook Again
Try this on Cinder Grill Today