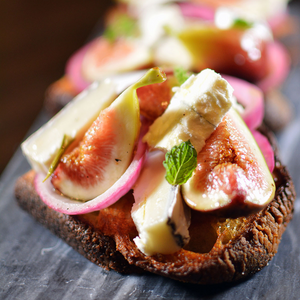 Easy Holiday Entertaining With The Cinder
Every holiday is all about celebrating and making merry together. The Cinder Grill is a great tool to bring people together by making holiday entertaining easier, especially for smaller groups. For instance, the hands-off cooking the Cinder provides allows the cook time to sit with family and guests, rather than having to worry about overcooking.  This year in particular we can use for something to be easy, and the Cinder Grill makes holiday entertaining easier than ever.
Holiday Hors d'oeuvres
The Cinder Grill can open the holiday meal with style, not only preparing delicious appetizers but keeping them nice and warm. Also, its brushed metal exterior makes it a handsome conversational point for entertaining conversations. Some suggestions from our Recipes page include:
Or adapt any of your favorite starter recipes to the Cinder Grill. Whatever you choose, the Cinder makes it easy to prepare and easy to serve.
Easy Main Dishes
Our Michelin Starred Chef, John Critchley, has developed quite a few stunning roasts worth building a holiday dinner around. Look through the selection on our Recipes page; we're sure you'll find something to your taste and your guests' delight. For instance, you can highlight a pork tenderloin with a neat wrapping of bacon. Our chef provides easy instructions on how to roll and tie a roast.  Or serve festive, delicious lamb with a sunny salad to recall warmer times. Even well known difficult dishes such as Whole Roast Duck make for easy entertaining on the Cinder Grill. 
Entertaining Desserts
Our desserts have been chosen with some sense of drama, since food should be entertaining as well as nourishing. Wow your holiday guests with a towering crepe cake, or bring them outside the box with toasted ganache sandwiches.  Ice cream is always welcome, and even better when enhanced with easy homemade cones. The Cinder Grill is your sous chef, helping you prepare an entire holiday feast with ease and fun!
This year more than ever we appreciate pleasant company and entertaining from home. The Cinder Grill stands ready to make your holiday meals more easy, enjoyable, and festive than ever before!
Never Overcook Again
Try this on Cinder Grill Today