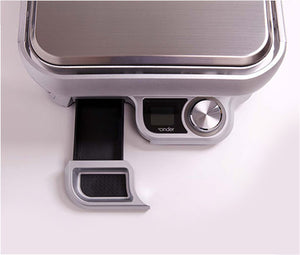 Five Kitchen Tools To Use With Your Cinder
Like all kitchen tools, the Cinder Grill works best when the proper kitchen equipment is used with it.  Therefore, here's a short list of the five items we find essential to use with the Cinder. All of these tools are inexpensive and familiar. Furthermore, they'll improve not only your Cinder Grill experience but all your cooking. 
Measuring Cups: Essential Precision
Dishes such as crepes, upside-down cakes, and ice cream cones cook beautifully on the Cinder Grill. Don't let this hide their true nature; all of these tasty treats count as baking. Thus, like any other baked good, these require precise measurement for the chemistry of baking to succeed. Therefore, we recommend using a set of measuring spoons and cups. Every cook should own these kitchen tools. Not only do accurate measures help you successfully put the recipe together, but by using them to portion the batter you also ensure that each pancake or cone is the same size. Making sure each is the same thickness, and cooks at the same rate, is important for more than looks. This precision helps prevent wet or burnt items.  So, for all your cooking, especially your grill-top baking, invest in measuring cups.
Tongs: Extend Your Hand
Tongs work as an extension of your hand. If a chicken breast is lopsided and not cooking properly, or a searing shrimp needs turning, or the last stalk of asparagus needs to be rescued, use tongs. They're much more precise than a spoon and don't leave unsightly holes like a fork. Furthermore their two-sided grip is much more secure. Tongs let you arrange your food exactly as you want it. If possible, use several different lengths of these essential kitchen tools. A small note: be careful to choose tongs with silicone coated tips, rather than bare metal. Remember, no metal implements on the Cinder Grill! 
Parchment Paper : Essential Kitchen Equipment
Parchment paper is so versatile that we gave it its own blog post. Even so, it's worth mentioning here. Parchment paper is basically a portable, grease-proof, non-stick surface. That qualifies it for thousands of different uses. It's almost a full set of kitchen equipment by itself! Make a parchment packet (cooking en papillote) and steam food to perfection on the Cinder. Line the surface with parchment before searing for the easiest cleanup ever. Wrap sandwiches in parchment before toasting them to keep them compact and tidy. No set of kitchen tools, no matter how numerous, is complete without parchment paper. 
Spatulas : Versatile Kitchen Tools
Silicone spatulas also extend your hand, in a different way than tongs do. Because their tips are flexible, spatulas can prevent food waste by prying those last drops from the bowl or those last bits from the skillet. That same flexibility makes them better at spreading than a knife. Also, because they're wider than tongs they're more suited to lifting fragile items. 
Furthermore this category of kitchen equipment has many variations. The handles are made in an assortment of thicknesses to fit any hand, while the heads come in many shapes and widths for many tasks, from folding and mixing to lifting and flipping (more on that last below). We recommend several spatulas of different widths and at least one 'spoonula' for maximum versatility.  Also, see the flipper spatula, detailed below.
Flipper/fish Spatula: Specialist Kitchen Tools
Flat spatulas with an angled, sometimes shorter handle, are often called 'turners', 'fish spatulas' or 'flippers'. These might be the most useful kitchen equipment for use with the Cinder Grill. Because of their thin edges they lift delicate foods with ease. A spatula of this design is essential for making pancakes, crepes, and fricos. While you get one, you might as well get two, so you always have one ready for anything you might want to put on or take off your Cinder Grill.
A few kitchen utensils can improve your cooking experience tremendously. These are the five we find most useful for working with the Cinder Grill. We're certain they'll help you further enjoy your Cinder! 
Never Overcook Again
Try this on Cinder Grill Today