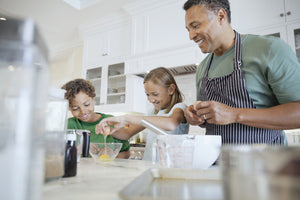 Kids in the Kitchen: Five Cinder Grill Recipes
Cooking is both a vital skill and a fun activity. What better way to bond with your kids than to cook with them? Bringing your kids in the kitchen is fun, educational, and rewarding. Try making one of these easy and quick recipes with your kids today!
The

Pork Tenderloin Wrapped In Bacon

looks beautiful and impressive, but it's actually a quick recipe to prepare. You can teach your kids

how to tie a roast

, which is a versatile and useful skill. Furthermore, using the Cinder Grill, you can show them exactly how heat affects food, and how it affects different foods cooked together. Finally, you can shepherd your kid to the table as they present their delicious accomplishment, and bask in pride. All that, plus bacon!
Chicken wings

are tasty, pleasantly messy finger food. Make them with your kids and enjoy one of our easy and quick recipes together. You can

vary the seasonings for a new flavor profile

, and thus show your kids how flavors combine. Also, you can discuss anatomy while you cut the wings into serving pieces. Best of all, you can giggle together as you lick your fingers, and be glad you brought your kids in the kitchen.
The toasted sandwich, aka panini, is another quick recipe to prepare on the Cinder Grill. Take the chance to teach your kids how to make their own after-school snacks, such as this

Heirloom Tomato and Mayo Sandwich

. This is another good recipe to display how to customize your food to your kids. Therefore, after choosing their own ingredients, they'll happily eat their creations!
Another, more unusual toasted sandwich is the

Butterscotch Ganache Sandwich

. Filled with oozy warm chocolate, this sandwich is utterly delicious. Also, it's a good opportunity to teach kids about the properties of chocolate. This deceptively quick recipe to prepare will dazzle your kids and their young friends.
We all scream for ice cream, and what could be more fun than

homemade ice cream cones

? Cooking and rolling these griddled cookies together will make having kids in the kitchen a delight. Furthermore, your guests will be impressed and astonished when your kids serve them ice cream in cones made by hand. Praise will make dessert all the more delicious.
These five are just examples from our collection of easy and quick recipes for the Cinder Grill.  Feel free to go through our listing with your kids, and to create new recipes and new memories with them. Bring your kids in the kitchen with your Cinder Grill, and have some tasty fun! 
Never Overcook Again
Try this on Cinder Grill Today