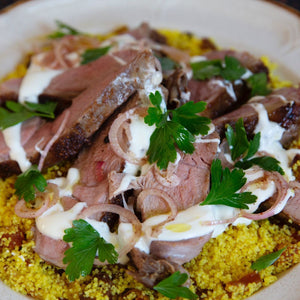 Lamb and the Cinder Grill
Lamb is a delicious variation on the usual red meat main dish. It's familiar, being similar in many ways to beef. However, it's just different enough to be intriguing. On the other hand, that difference often worries home cooks. Will lamb be difficult to prepare? Not with the help of the Cinder Grill, with its superior ability to prepare different types of meat. The Cinder Grill guarantees perfect lamb every time. 
Young and Tender
Lamb has all of the rich flavor, iron, and nutritional benefits of red meat. However, it has some benefits of its own. It has less saturated fat than beef does. Furthermore, because it comes from smaller animals, it is naturally more tender. It does have a rich, musky flavor, which some people call 'gamy', but this is where the Cinder Grill helps. The fat carries most of that 'gamy' flavor. By draining away fat during cooking to temperature, the Cinder Grill makes lamb milder. Therefore, it's more appealing to those used to different types of meat.
Off The Beaten Path
Lamb is not eaten that commonly in the US. This is something which should change. It takes well to rich flavors and warm spices. Furthermore, because of its inherent richness it can be satisfying in smaller portions. For a more steak-like presentation, try our succulent lamb leg. On the other hand, for something deliciously unusual, try our spiced lamb with couscous and shallots. It's a good idea to vary one's diet with different types of meat, and lamb is a delicious and accessible variation.
Perfect Lamb, Perfect Results
Lamb somehow has the reputation for being difficult to cook. However, the Cinder Grill exists to make difficult dishes foolproof. Cooking lamb to temperature guarantees the juiciest results. Furthermore the Cinder Grill's built in sear works very well with lamb. Crisp and browned on the outside and juicy inside, your lamb will turn out mouthwatering and perfect every time. 
So try some lamb on the Cinder Grill. All those fancy-sounding dishes, such as rack of lamb and lamb chops, cook beautifully on the Cinder. Long-cooked dishes can be held at temperature until they tenderize into succulence. Finally, the Cinder Grill will never overcook your lamb, never spatter its fat, and never turn out anything less than perfect lamb every time.
Never Overcook Again
Try this on Cinder Grill Today