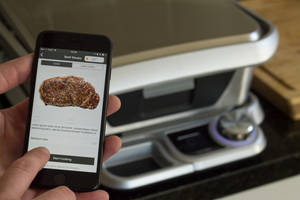 Live In An Apartment? Cinder Cooks For You
Apartment living runs on efficiency. Everything in an apartment needs to fit well, look good, and pay its rent, as it were. For instance, consider the cooking equipment. There's no point to keeping anything that takes up space without everyday value. This is where the Cinder Grill comes in. Its sleek, compact design makes for both pleasant decor and easy cleanup, and it makes cooking at home foolproof. With the Cinder you can fit an easy meal into your busy schedule whenever you want.
How the Cinder Contributes
As the world's first and only Smart Grill, the Cinder Grill reliably produces perfect food using its cutting-edge Temp-Sense ® algorithm.  This allows the Cinder to monitor the food's temperature and adjust for optimal cooking.  A very common issue when cooking is figuring out what temperature to use. However, with the Cinder Grill, you can just set your target temp, and the Cinder will raise the food to your goal and not a degree over.  This retains moisture and flavor and avoids the risks of burning. In a word, the Cinder cooks for you. How's that for an easy meal?
Furthermore, the Cinder provides for easy cleanup. The sleek design and nonstick plates mean that any spills and splashes wipe away. Scrubbing pots and pans is a thing of the past!
Cooking At Home
Compared to ordering in, cooking at home is both safer and more convenient. No delivery, no risk of mix-ups or allergens, exactly the food you want. Furthermore, it's particularly convenient in these days of working at home. Set up your Cinder Grill to cook while you work, and in a couple hours it'll be ready right when you need to take a break. Or heat the Cinder to 350 and quickly toast a sandwich for a hot snack. Whatever you choose the Cinder will provide you with an easy meal and easy cleanup.
Easy Meal Planning
As shown above, the Cinder Grill fits right into your daily schedule. Also, our page full of recipes makes it very simple to plan an easy meal or three for every day. But you don't have to stick only with our recipes; feel free to modify them to better suit your tastes, time, and needs. Furthermore, you can use our recipes as a guide to adapt your favorites to the Cinder Grill. 
Learn with Cinder
If you find you have the time to learn more about the science and art of cooking, the Cinder Grill can help you learn. The Cinder's single-degree control helps you easily correlate temperature to its effect on food.   An easy meal allows room to experiment fearlessly, and easy cleanup saves more time and thought for cooking. You can rest secure knowing that you've put your smart grill in charge of your cooking education. Whether you're too busy to cook or just learning how, the Cinder Grill makes cooking at home easy and delicious.
Never Overcook Again
Try this on Cinder Grill Today