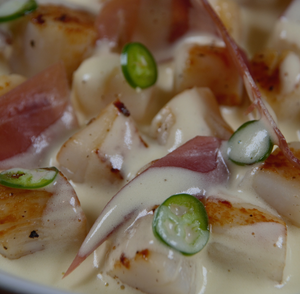 Sauces: Enhancing Dishes From The Cinder Grill
Sauces contribute mightily to the culinary world. They use items which might otherwise be wasted, such as drippings. They also tie together all the dishes in a meal with a unifying flavor. And of course, they enhance the tastes of whatever they're based on and served with. It may seem that sauces can't be made on the Cinder Grill, but nothing could be further from the truth. We wrote this blog to explore the possibilities, tips, and tricks of delicious sauces from the Cinder Grill.
Pre-Made Condiments
Of course many sauces can be found pre-packaged off the shelf. Furthermore, there's an ever-increasing number of condiments designed for diets such as the carnivore diet and the keto diet.  These can be a good place to start for novice cooks, as long as you always put your own stamp on them. Try warming up bottled sauces when appropriate, such as Worcestershire, soy, and even vinaigrette dressings. However, be careful -- warming vinegar-based sauces, especially, shifts the balance of flavors towards sharper and spicier. 
You can also add a dash or two of congruent ingredients to your taste. For example, when warming that vinaigrette, whisk in a little mustard and another spoonful of oil or mayonnaise. This both adds richness and helps to emulsify it. A little sugar can also help tame the acidity. And try mixing soy sauce  or liquid aminos with melted butter for a rich savory flavor that goes far beyond Eastern cuisines.
Sauces From The Grill: Drippings and Dicings
Cooking on the Cinder Grill makes it easy to save every drop of drippings in the Drip Tray. This is important for the carnivore and keto diets as well as for culinary reasons. A delicious way to consume this nourishment is in a sauce.  As we detail in our blog on Food Safety and the Drip Tray, the safest way to save the drippings is to drain them into a refrigerated jar every twenty minutes or so. At the end of cooking just reheat them and serve. Try flavoring them with dashes of soy sauce or a spoonful of mustard, or even just some salt and pepper.
However, the residual heat from searing can also be put to work. Try finely dicing a couple of mushrooms, a shallot, or a clove of garlic. Then soften them for a minute or two on the Cinder plate as the meat rests. Finally, add to the heated drippings. This adds delicious flavor as well as body to your incipient condiment!
Cook In Sauce on the Cinder
Although the flat Cinder plates are designed to drain, a couple of sheets of aluminum foil can turn them into a simmering station. Place par cooked food on foil with some of your chosen sauce, but not too much. You don't want to risk leaks. Then fold the foil up around the food, and crimp tightly. For example, the Country Style Pork Ribs linked below use this method. This is a good way to marry store-bought condiments to the food. Even a few dashes of ketchup exchange rich flavor with food while they cook. Furthermore, drippings or homemade sauce raise the dish to new culinary heights.
Simmering on the Stove
One more way of pairing your Cinder-cooked dishes with sauces is to take advantage of the stove space freed by the Cinder Grill. Saucepans are well named, after all. With a burner, a whisk, and a saucepan you can make an almost infinite variety of condiments for your dishes. Try a nut-thickened sauce to keep up the protein levels required by the keto diet, or a rich beurre blanc, or a classic gravy. However you construct your sauces, they'll take your perfectly cooked food from the Cinder Grill to the next level.
Delicious Examples
Our Michelin starred Chef Critchley has kept all these points in mind when developing recipes for the Cinder Grill. Here are just a few examples of recipes with sauces included to give you more solid ideas of what we've discussed here.
These Seared Scallops with Serrano Ham are further enhanced with bright chilies and a rich zabaglione sauce.
In this Whole Roasted Duck recipe our Chef makes full use of the delicious drippings the duck gives up while cooking. This develops the perfect condiment for the duck and its companion dishes.
As mentioned before, these Country Style Pork Ribs perfectly demonstrate how to cook in sauce.
Make these recipes, and many more, saucy and extra delicious on your Cinder Grill!
Never Overcook Again
Try this on Cinder Grill Today