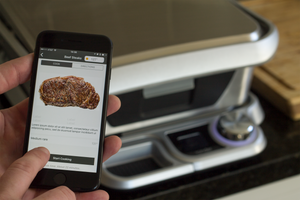 The Cinder Grill: Big Enough For All Your Needs
Many of our customers have asked if we'll ever carry assorted sizes of the Cinder Grill. Right now our magic meat machine comes in just one size. However, we can modify the Cinder's output in various ways. We've provided some ideas to adjust the Cinder Grill to your household. This way you can bring the restaurant home, and cook with ease no matter how much or how little you're making.
Cook With Ease: One Steak or Six
On the one hand, the Cinder Grill boasts 85 square inches of cooking space, large enough for a whole chicken. On the other hand that doesn't mean you must use all that space every time. On the stovetop a skillet's entire surface gets hot enough to burn spatters into a sticky mess. In contrast, Cinder works very differently. Because it uses the sous vide method to bring food to temperature, the Cinder Grill doesn't get hot enough during usual cooking to burn errant drippings. Cook with ease, whether one steak or six, without any scorching of bare areas. However, the Cinder does get hot enough to burn during the searing phase. Be sure to wipe the plates well before turning your Cinder to sear!
Bring the Restaurant Home: Pork Chops to Pancakes
The Cinder Grill also works as a griddle between 200 and 400 degrees. Thus the magic meat machine helps you cook with ease. Its versatility extends to vegetables, crepes, whatever you'd like. For example, those 85 square inches of cooking space help a lot when making pancakes, whether you're cooking up one stack or a diner-style breakfast for a crowd. Furthermore, food can be griddled quickly, such as thin cuts of meat. Consider quickly seared pork chops or chicken cutlets, browned outside and succulent inside, ready to serve with a piquant sauce, pasta or potatoes, and a glass of white wine. What a great way to bring the restaurant home!
Stock Up With the Magic Meat Machine
Another benefit of the Cinder Grill's size is cooking ahead. For instance, prepare a full recipe of Dry Brined Turkey Breast, let it cool, and reap the benefits. Our magic meat machine keeps turkey juicy enough to chill without drying out. Then you can bring the restaurant home with gourmet turkey salad. Or you can shred the meat and toss with salsa to fill tacos. You can even wrap it up with rice and beans and cheese. Enjoy burritos that put the chains' to shame. Cook with ease knowing that the longest step is already finished, and quickly turn pre-prepped food into an endless number of delicious dishes.
A Note on Placement
The Cinder Grill is solidly built, to last and for good heat retention. You can move it around if you like, but at 24 pounds you may decide to choose a spot instead, just like for a mixer or blender. Therefore, we recommend picking a location, putting down a towel-lined tray to catch any spills, and settling the Cinder into its new home.
Never Overcook Again
Try this on Cinder Grill Today