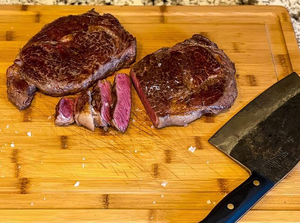 The First Meal to Cook on Your Cinder Grill
When your Cinder Grill arrives you'll probably want to cook anything and everything on it. After all, the possibilities are endless. However, we do have a recommendation for the first meal you cook on your Cinder.  Try a steak. Not a super-fancy tomahawk or a three inch thick filet mignon, though both can be cooked to perfection.  Try a cut you've cooked before, one inch thick and not too wide, the better to observe how the Cinder transforms it into the perfect steak.
The Perfect Steak
There are several reasons we recommend a steak for the first meal you cook on your Cinder. First of all, the Cinder Grill is a wonderfully versatile device, but its first love is steak. Also, you already know steak well. You know how you like it done, you know what your hopes are for the perfect steak. Thirdly, a one-inch thick steak is the best shape and size for food to cook via our sous vide method.  As discussed in our blog post on the perfect steak thickness, this depth of meat heats through evenly and not too slowly. It should take about an hour.  With all these variables minimized, the steak is the best way to get a feel for the details of how the Cinder cooks. Plus, it's guaranteed to be delicious.
Cinder Grill Variables
The Cinder Grill is a machine, but it still has individuality. As mentioned above and in our discussions of how the Cinder cooks, the sous vide method works by gradually and evenly raising the temperature of the food. Due to water and protein content, variations in density and thickness, and so on, every piece of food cooks a little bit differently. Likewise, due to manufacturing tolerances, each Cinder Grill cooks a little differently. The most evenly composed piece of food to highlight each Cinder's personality is a perfect steak.
The First Meal of the Rest of your Life
Because of these individual quirks, getting to know your Cinder Grill a little before trying new dishes is both fun and worthwhile. Preparing the perfect steak on your Cinder will allow you to see precisely the effects of the sous vide method, the even doneness from edge to edge. Once you have a feel for how your particular Cinder cooks, then you can branch out. Try different cuts of beef, other meats, and a wide array of other dishes, confident in what you've learned.
All the Other Meals Too
Our Recipe Page features creations by Michelin-starred Chef John Critchley.  We cover a wide range of dishes, from pancakes to ceviche, whole ducks to seared asparagus. Furthermore, we're always excited to add new ideas to our dynamic library of recipes.  Once you've mastered the perfect steak, try Soy Marinated Salmon,  Pork Belly With Sofrito,  Whole Roasted Acorn Squash, and more! You can even bake on the Cinder Grill, as seen with the Baked Brie.  Use these recipes as a starting place to imagine, tinker, and experiment with food. Enjoy your first meal of a perfect steak and so much more from your Cinder Grill!
Never Overcook Again
Try this on Cinder Grill Today