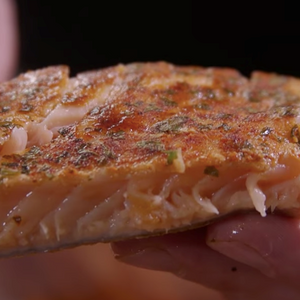 The Ketogenic Diet & The Cinder Grill
The Ketogenic Diet is a very low-carbohydrate diet. It replaces carbohydrate-rich foods with protein-rich and fat-rich foods.  This puts the body into a metabolic state called ketosis. This, in turn, results in health benefits such as more efficient fat metabolismand improved insulin sensitivity.
Because of the high protein and fat content of the ketogenic diet, it enhances a sense of fullness and prevents feelings of deprivation,. This makes it an excellent method for losing weight sustainably. The Cinder Grill is a very effective cooking method for use with the keto diet, in several ways. 
Perfectly Cooked Proteins
The cornerstone of the Ketogenic Diet is an improved protein intake. Many protein-rich foods, such as meat, poultry, and fish, are quite temperature-sensitive and often easy to overcook. The Cinder Grill's single-degree precision brings the food precisely to temperature. This method prevents overcooking. No diet is sustainable if you don't enjoy what you're eating. The Cinder Grill's precision ensures that you enjoy every bite. 
Expanding Your Repertoire
Learning a new way of eating involves learning different recipes and different methods of preparation. The Cinder Grill is invaluable here as well.  For instance, one recommended category of foods for the ketogenic diet is seeds, including nuts.  There are many ways to add nuts and seeds to your diet. You can toast them and crush them to thicken sauces without starch. You can add them whole to salads and low-carbohydrate vegetable dishes.  However, toasting nuts can be risky. Whether in the oven, in a skillet, or in the microwave, there's a very short time between perfectly toasted and bitterly burnt. With the Cinder's temperature control and spacious griddle plates, toasting nuts becomes foolproof. This is just one example of how the Cinder Grill can contribute to the ketogenic diet.
Versatility and Added Flexibility
Because the Cinder Grill handles temperatures so well, it provides versatility and flexibility. This helps you adapt the ketogenic diet to your individual lifestyle.  Are you concentrating on finding the perfect steak doneness to your taste? Find the temperature precisely with the Cinder Grill.  Are you experimenting with a new dish you've never cooked before? The Cinder Grill takes temperature control out of the variables.  Do you need both low heat to cook protein through and high heat to toast spices and seeds for a rich sauce? The Cinder Grill can go from low temperature cooking all the way to searing and back again.
In our Recipe collection we already have many keto diet friendly dishes, such as a vibrant Beet Salad, Whole Roasted Acorn Squash,  and rich Saffron Chicken Skewers. We're adding more all the time! The Ketogenic Diet is an excellent way of adjusting your eating habits for better health. The Cinder Grill is ready to help make that adjustment as easy as possible and to provide excellent results. 
Never Overcook Again
Try this on Cinder Grill Today