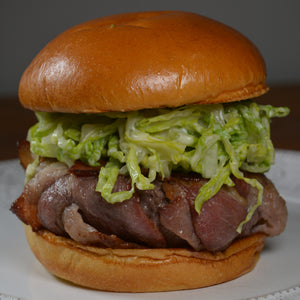 How to Make The Perfect Burger
How do you make the perfect burger on the Cinder? Several members of the Cinder Grill community have asked us this question. The answer is deceptively simple and intriguingly complex: the reverse sear.  The Cinder Grill uses the reverse sear method to bring meat to temperature and then sear it. Thus, we maximize both the internal doneness and outer sear. In many ways a hamburger is another kind of steak. However, in several meaningful ways it isn't. Both of these qualities are addressed perfectly by the reverse sear method, which produces a restaurant quality burger every time.
Understanding Ground Meat
Ground meat has a different texture than whole meat. Because the meat is cut into so many small pieces, fibers are shortened and tenderness is improved. This is why the flavorful but tough chuck is often ground into burger meat. However, these improvements come at a price. Moisture can escape much more easily from ground meat. Furthermore, water-soluble proteins crosslink as we handle the meat, making a new source of toughness. In short, the meat needs to be gently handled and brought to temperature in a way that improves moisture retention. You accomplish one, and the Cinder Grill accomplishes the other. 
The Superior Reverse Sear
The Reverse Sear, as we've written before, brings the meat to temperature before searing.  The innovative Cinder Grill brings the meat just up to temperature and no higher. Because of this, moisture loss is minimized. As well as keeping the juiciness in the meat where it belongs, this method has another benefit. It prevents the surface from becoming wet and indeed dries it out somewhat. In turn the meat sears faster, with deeper browning, and less of a rise in internal temperature. So reverse searing is the next step to the restaurant quality perfect burger. 
Restaurant Quality Cooking
To prepare your perfect burger, select a third to a half pound of ground beef. (Chuck is the best cut for this purpose.) Because salt draws moisture, don't season it yet. Gently pat it into an inch-thick, three-inch-wide disc of meat and lay it on the Cinder Grill plate. Then set the Cinder for 130F. (If you're cooking multiple burgers you should be able to fit up to six at a time.) 
When the burger reaches temperature, remove it to a plate with a spatula and season well on both sides with salt and pepper. Swab down the plate as described in our blog post on caring for the Cinder Grill, and turn the Cinder to Sear. When the Cinder's ready to sear, return the burger to the plate and go for the Long Sear of 90 seconds per side. As a result you'll have a beautiful, crisp, brown crust surrounding pink juicy meat edge to edge.
Top Your Perfect Burger Perfectly
Before you turn off your Sear setting quickly toast your burger buns. This simple step contributes a lot to restaurant quality taste and texture. Apply condiments with a light hand. Because this burger is so lusciously cooked, the bun will need some room to soak up all those savory juices. Savor your perfect burger and relax knowing that the next one is as soon as your next session with your Cinder Grill
Never Overcook Again
Try this on Cinder Grill Today