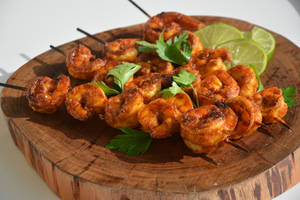 Shrimp on the Cinder Grill
Sizes chosen:    40/60  31/40  13/15
Cinder temperature kindly determined by Chef Critchley
Preheat your Cinder Grill to 155 F.
21/25 shrimp cook for 20 min. What are cooking times for other shrimp?
40/60  cooking time:   7 min
Shrimp are delicious, nutritious and quick to cook, all of which endear them to the Cinder Grill. Chef Critchley figured out the best way to cook them – at a constant temperature of 155F – but we only have the times for one size, the 21/25s. So we set out to find a formula that would work with any size of shrimp on the Cinder.
A Note On Sizes
Before we go on, we should explain what we meant by "21/25s"  Shrimp are often sold under designations such as "large"  "jumbo"  "colossal" and "galactic", but on every package there's a notation of how many shrimp per pound are included. That's the proper way to measure shrimp sizes, by how many fit in a pound, usually expressed as a short range. 21/25s are a popular size, often called jumbo, and there are 21 to 25 of them per pound. The larger the numbers, the smaller the shrimp: 31/40 shrimp, being 31 to 40 per pound, are considerably smaller than the 21/25 shrimp. But they're all delicious!
Temperature and Timing
To determine the best times for shrimp on the Cinder Grill, we obtained a few sizes. 40/60, 30/40, 25/30, and 11/13 (we already knew that the 21/25 cook for 20 minutes) Each batch of shrimp was brined for fifteen minutes in a solution of salt, sugar, and baking soda (except for the 11/13, which were brined for twenty minutes). Then the shrimp were drained and laid out on the preheated Cinder Grill, and checked every two to three minutes for doneness. 
Graphical Results
Here's a graph of our results
Sizes and Times
| | | |
| --- | --- | --- |
| Shrimp Size | Shrimp Per Pound  | Cooking Time at 155F |
| Small | 50 to 60 | 7 minutes |
| Medium | 40 to 50 | 10 minutes |
| Large | 30 to 40 | 14 minutes |
| Jumbo | 16 to 30 | 20 minutes |
| Colossal | 15 or fewer | 25 minutes |
Now that you have a foolproof method for cooking shrimp on the Cinder Grill you can make just about anything you like with them. Try our Shrimp Rolls or Shrimp Ceviche, or Halibut and Shrimp in Coconut Curry, a vacation in a bowl. Use them in your tried and true recipes from cocktail to chowder. Experiment happily, knowing that your shrimp will always come out tender and delicious thanks to the Cinder Grill!