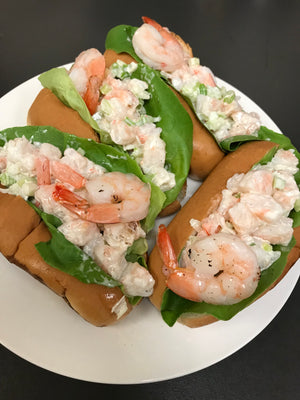 Celebrate summer's seafood splendor with Shrimp Rolls – as delicious as lobster rolls with none of the fuss and at half the price! Also, the shrimp will always be perfectly cooked, toothsome yet tender, when you use the Cinder Grill.
1 pound 21-25 count Shrimp, Peeled and deveined

1Tbsp Salt

1Tbsp Sugar

1 cup water

1/4 cup mayonnaise

1 rib celery, diced

1 Tbsp chives, minced

1/4 Tsp Salt or to taste

Fresh lemon juice, to taste

Freshly ground black pepper

2 Tsp ghee or grapeseed oil,, divided

4 top-split hot dog buns 

4-8 leaves of a tender lettuce such as Boston lettuce.
Preheat your Cinder Grill to 155 F. 

Mix salt, sugar, and water until dissolved. Add shrimp and let sit for 15 minutes.

Prepare an ice bath.

Remove shrimp from brine and pat dry with paper towels.

Lay out shrimp in cinder, close lid, and cook for 20 minutes.

At the end of the 20 minutes quickly transfer shrimp to ice bath. Wipe down Cinder plates. Let shrimp cool 15 minutes.

In a large bowl, mix mayonnaise, lemon juice, salt, chives, celery, and pepper. Taste for seasoning and leave in the refrigerator to chill.

Remove shrimp from ice bath, pat dry, and cut into bite size pieces.

Remove large bowl from fridge and mix shrimp into dressing.

preheat Cinder to Sear.  pour one Tsp oil on Cinder Plate, spread around, and lay buns on their sides to toast. After 45 seconds or sufficient toasting, drizzle remaining oil  over, turn buns over, and toast other side. When fully toasted remove buns to platter.

Line each bun inside with 1-2 lettuce leaves.  Divide shrimp mixture between buns and serve.
Never Overcook Again
Try this on Cinder Grill Today