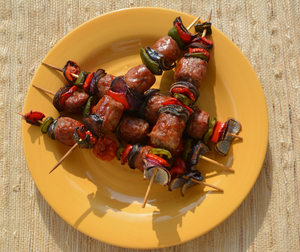 Beef Kabobs With Onions and Peppers
Nothing says summer like kabobs. What could be more delicious than seared beef with sweet summer peppers and onions? Even better, now you can bring that delightful flavor and form factor inside! Enjoy tender but toothsome steak and crisp-tender vegetables, all cooked with ease on the Cinder Grill. 
Kabobs:
2 pounds boneless beef steak, such as shoulder steak or london broil

1 ripe red or yellow bell pepper

1 large onion, white or red

1 few pinches salt and pepper
Marinade:
1/4 cup chopped roasted red peppers

1/2 cup olive oil

2 tbsp chopped fresh onion

2 tbsp chopped fresh parsley

1 tsp dried or 2 tsp fresh thyme

1/4 tsp cinnamon

1 tsp salt

1/2 tsp black pepper
Prepare the vegetables. Cut the pepper into planks and the onion into thick petals (peel off each layer and cut into wide pieces). Place on the Cinder and sprinkle with a couple of pinches of salt and pepper. Set the temperature to 215 and cook for 45 minutes.


Make the marinade. Puree all the ingredients together in a blender or food processor.


Cut up the meat. With a sharp knife cut the meat into roughly 1&1/2 inch (3 cm) cubes. Trim away fat or connective tissue as you go.  When finished count the cubes to help plan the skewering. Then toss with the marinade, cover and refrigerate.


Assemble. When the vegetables are cool enough to handle cut the peppers into 1&1/2 inch squares and the onions into 1 inch by 2 inch strips. Take 6 inch skewers and thread onto each: one cube meat, one or two squares pepper, one cube meat, one or two strips onion, one cube meat. (Double over the strips of onion). Meanwhile heat the Cinder to Sear.


Cook. Quickly place 5 skewers at a time onto the Cinder. Close and sear for 2 minutes. Turn down the heat to 125 and set timer again: 2 minutes for rare, 4 minutes for medium, 6 minutes for well done (may be chewy)



Remove skewers from Cinder and let rest 5 minutes before serving. Meanwhile, wipe down plates, reheat to sear, and cook any remaining batches. 
Never Overcook Again
Try this on Cinder Grill Today