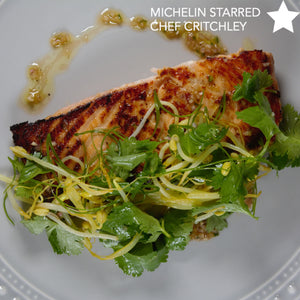 Soy Marinated Salmon with quick pickled mung beans
Salmon is rich yet delicate and very forgiving, which makes it an excellent meal option for novice and experienced cooks alike. Using the Cinder to perfectly cook salmon, then give a crispy char, is a great way to impress friends and family.  Crisp, tangy mung bean sprouts make a perfect partner for the fish. This quick pickling recipe will allow you to mix and match and be creative with your flavors -- feel free to change the spices and herbs around to suit your taste, and to use the pickle on any shredded or thinly cut vegetables you like.
Serves 2-3 people
Ingredients:
1.25 Pounds

Salmon filet, skin removed
For the marinade:
¼ cup

Light Brown Sugar

¼ cup

Rice Vinegar

2 Tbsp

Soy Sauce

2 Tbsp

Olive Oil
For the Pickled Mung Beans
4oz

Mung Beans

¾ cup

Cider Vinegar

½ cup

Water

1.5 tsp

salt

2 Tbsp

Sugar

1 each

Serrano Chili, split

½ tsp

turmeric

1 tsp

Mirin
Method:
Bring vinegar, water, salt, sugar, chili, turmeric and mirin to a simmer in a small pot.  


Remove from heat and add mung beans sprouts.  Let cool to room temperature


Combine ingredients for marinade pour over the salmon.  Allow to marinate for at least 15 minutes prior to cooking.


Place the salmon filets on the Cinder grill and close the lid.  Set the Cinder to 130 degrees Faranheit


When the Cinder signals 'done', remove the salmon from the grill and place gently on a plate.  Wipe the grill clean and set to 450 degrees.
 
Lightly spray or wipe oil on the bottom plate and set the fish back onto the cinder.  Leave the lid open and sear on one side for one minute.


Gently remove from the grill and place on serving platter



Drain the mung bean sprouts and toss them with the vinaigrette ingredients, then serve them alongside the salmon and perhaps some steamed rice.
Never Overcook Again
Try this on Cinder Grill Today