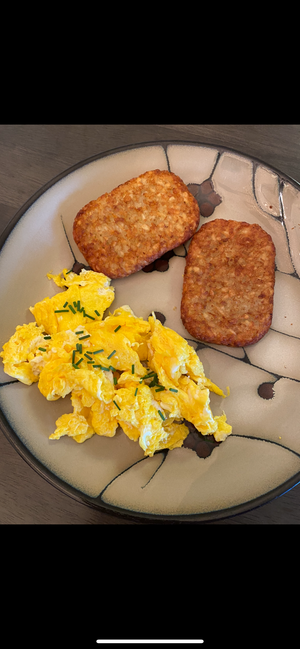 More custardy than fried eggs and less formal than an omelet, no egg dish is more comforting than scrambled eggs. After a little experimentation we've worked out how to obtain fluffy, tender, flawless scrambled eggs from your Cinder Grill.
Ingredients:
3 large eggs

1/8 teaspoon kosher salt

1 tablespoon (1/2 ounce; 15ml) milk or light cream

1/2 tablespoon (1/4 ounce; 8g) unsalted butter

Freshly ground black or white pepper
Instructions: 
Heat Cinder to 300 F. Meanwhile, beat eggs with salt and milk. 

When Cinder reaches 300, place butter in center of plate and let it melt.

Just before it's all melted, pour the eggs in the center of the plate.

Using a silicone spatula, start pushing the eggs back into the center of the plate. Be especially careful not to let them flow out the drain a notch.

As you push the eggs back, working around the circle, the uncooked eggs will run out and puff up into fluffy curds. 

As soon as you see no more wet egg, remove the eggs to a plate – delay will overcook them and turn them rubbery. Sprinkle with pepper and serve.
Never Overcook Again
Try this on Cinder Grill Today