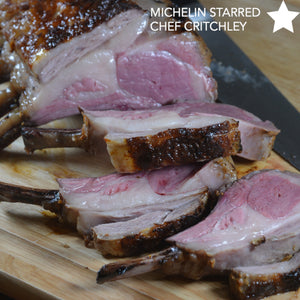 Roasted Frenched Rack of Lamb with Cap
Lamb roast can sound intimidating to most people, including experienced cooks. However, this recipe is amazingly simple and even more amazingly delicious. By following a few simple steps and trusting to the Cinder you'll experience juicy, tender, rich meat in an impressive roast.
A note: "Frenched" lamb refers to the process of removing the thin layer of meat and fat on the ends of the bones.  This layer is prone to overcooking and spoiling the flavor of the whole roast. Also, the bare bones contrast with the lush meat for a more elegant presentation. However, if you can, get the butcher to give you those scraps; you can make a delicious by browning them in a saucepan with a handful of onion, then adding beef broth, simmering while you roast the lamb, straining and finishing with salt and pepper.
Serves 2-3 people
Ingredients: 
1 each (approx. 3 pounds)

Frenched Rack of Lamb with Fat Cap

½ cup

Dijon Mustard

1 tsp

Paprika

1 tsp

Onion Powder

1 tsp

Garlic Powder

1 Tbsp

Kosher Salt

1 tsp

Black Pepper, Ground
Method: 
 Remove the lamb from the package and rinse thoroughly with cold water.  Pat dry and, using a sharp knife, trim the fat on the top of the loin to an even layer no less than ¼ inch.


Tie the roast with butcher twine to create a uniform thickness in between each rib bone


Brush the roast with mustard on the fat and the underside as well.


Combine seasonings and cover evenly around the roast


Place the roast with the fat side up on the cinder grill and close the lid. 
Set the Cinder to 110 degrees Faranheit. (approximately 2 - 2.5 hours)


Once the temperature is reached, lift the lid and flip the roast over to have the fat side down.  Close the lid and increase the temperature to 275 degrees Faranheit and insert a probe thermometer in the meat to monitor its progress


Continue to cook until an internal temperature of 130 degrees Faranheit.  Remove the roast from the grill and allow to rest for 10 minutes on a cutting board.  The roast should be golden brown and tender


Carve in between the each rib bone and serve right away
Never Overcook Again
Try this on Cinder Grill Today