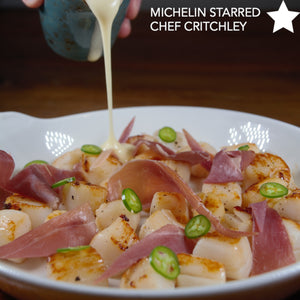 Seared Bay Scallops with Serrano Ham and chilies
Winter is the best time of year to enjoy New England's seafood bounty.  The chilled, clear waters are cleaner and better oxygenated at this time of year than any other. This renders the shellfish plump and delicious. These Bay Scallops are superlatively sweet and tasty, lightly cooked and paired with savory ham and frothy zabaglione sauce.
Serves: 2-3 people
Ingredients:
1 pound

Bay Scallops, Cleaned

6 each

slices of serrano ham, or prosciutto

2 each

Serrano Chilies, sliced super thin into rings
For the Zabalogne:
4 each

Egg yolks

½ cup

Champagne

2 Tbsp

Mirin

1 tsp

sea salt

1 ounce

butter, melted
Method:
 Preheat Cinder to sear (450 degrees F)


Season the scallops with salt and pepper and toss lightly with vegetable oil


Before cooking the scallops, prepare the Zabalogne sing a small mixing bowl over a pot of simering water


Combine ingredients for the zabalogne except for the butter and whisk over the simmering water until frothy and thickened (this should take a few minutes and the sauce will be hot, not curdled)


Add the melted butter and continue to whisk to combine.


Remove the bowl from the simmering water and hold in a warm place


Sear the seasoned scallops on the cinder with the lid open for 1 minute


Using a spatula, turn the scallops over and allow to sear another minute.


Remove the scallops to a serving dish shut off the Cinder grill


Arrange the slices of ham and chilies among the scallops



Coat the entire dish with the Zabalogne and eat right away.
Never Overcook Again
Try this on Cinder Grill Today 
Never Overcook Again
Try this on Cinder Grill Today