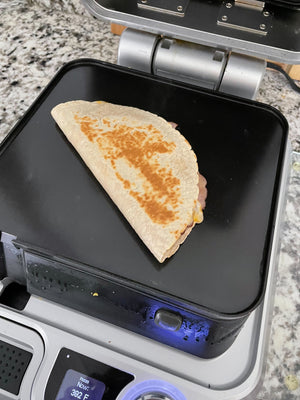 Smoke and the Smokeless Cinder Grill
The Cinder Grill is a smokeless electric grill. This is a feature, enabling apartment dwellers to cook flavorful food without risking the ire of their smoke detectors. However, smoke does contribute delicious flavor to food. For that reason we've considered some ways to add smoke to the Cinder Grill in controlled ways, which won't set off the alarms. Here are some of our ideas.
Smoke Carriers: Bacon, Chilies and So On
Many foods, from cured meats to chilies, are smoked as part of their preparation. They can then transfer their delicious flavors, including smoke, to other foods during cooking. Some of our recipes take advantage of such ingredients, such as our Seared Bay Scallops with Serrano Ham. In addition to those, here are some other suggestions: Try using a chipotle-based sauce on chicken or Turkey breast, or wrap just about anything  in thinly sliced bacon before searing.   You can also slice smoked ham into a thin chiffonade with herbs to sprinkle atop a finished dish. All of these methods add visual interest, flavor, and smoke to your Cinder Grill preparations.
The Essence of Smoke Flavor: Liquid Smoke
In a food world full of fake ingredients made of chemicals with lengthy names, liquid smoke stands out. It is precisely what it says it is, smoke from burning hardwood that has been condensed into liquid solution. A few drops in a marinade or rub can lend just about any food the flavor of being grilled over live coals. However, measure carefully, as it's very strong. Try combining it with the aforementioned chilies in a sauce, or add a splash to a dry rub for pork.  As an alternative to adding it with pre-cooking seasonings, try brushing on a little liquid smoke mixed with soy sauce and oil just before searing. This produces a rich, savory, smoky crust. 
Sprinkle On Some Flavor: Smoked Salt
Similarly, smoked salt is salt infused with smoke. The original method, still widely practiced, involves boiling seawater down over billowing wood fires to produce salt. There are other methods as well. However it's made, smoked salt can help build flavor on the Cinder Grill from start to finish. Substitute it for regular salt in marinades and seasonings. It can also be added to brines, but at no more than one fourth of the total salt. After all, too much smoke can become not such a good thing. At the other end of cooking, use smoked salt as a finishing salt just before serving, for a crunchy smoky pop of flavor in each bite.
The Cinder Grill & the Flavor of Charring
As mentioned above, the Cinder Grill is smokeless. However, if the cook can dare a little smoke, the Cinder can be used to deliver a marvelous char. Simply keep searing the food past the first 45 seconds, until it develops a thick dark crust.  This crust is the Maillard reaction taken to extremes, rich flavor combined with the pleasant edge of a burn. Foods suitable for this treatment include vegetables such as green beans and asparagus, and meat such as beef steak. A little sprinkle of sugar before searing can help the process along. Also, you'll want to slightly undercook the food before searing, to account for the rise in internal temperature that the extended sear can cause.
These are a few ways to add smoke to your cooking without any adverse effects. Whichever you choose, enjoy rich flavor in every bite from your Cinder Grill!
Never Overcook Again
Try this on Cinder Grill Today