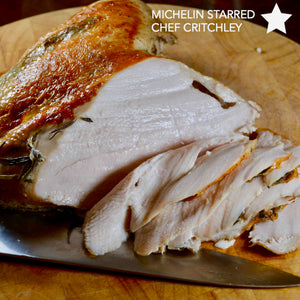 Dry Brined Turkey Breast by Michelin Starred Chef John Critchley 
Dry brining turkey is a great alternative to traditional brining and a lot easier to store in a tight refrigerator.  This rub can be modified with your favorite spices and herbs to give your own unique flavor to your Thanksgiving, or just a good roast turkey dinner.
Serves 4-6
Ingredients:

4-6 Pound

Turkey Breast, split the backbone and lay flat similarly to spatchcocking , w

ithout the legs attached

1/4 cup

Coarse Sea Salt

3 each

Rosemary, Sprigs, stem removed

1 Tbsp

Fennel seed

1 Tbsp

Coriander Seed

1 tsp

Black pepper

4 each

Garlic cloves, minced or crushed

Olive Oil as needed

2 each

Rosemary Sprigs for under the skin
METHOD:
Rinse turkey with cold water and pat dry.


Combine in a mortar and pestle, the salt, rosemary, fennel, coriander, black peppercorns and garlic and pound together until completely crushed.


Rub the salt mixture all over the turkey and the underneath reserving 1 tbsp of the seasoning for cooking.


Wrap turkey in plastic bag or with plastic wrap and place on a tray in the refrigerator for at least 6 hours but up to 24 hours.


When ready to cook, remove the turkey from the plastic bag and rinse with cold water. Pat dry.


Insert the two rosemary sprigs under the skin, one on each breast.


Sprinkle the olive oil and the reserved seasoning on top of the bird evenly and place skin side up on the Cinder grill.


Using the App, set the temperature to 147°F and close the lid.


The plates should start to heat up and depending on the size of the bird, it should read approximately 183 minutes.


Once completed cooking, remove the breast from the machine to a plate. (Check internal temperature with a probe thermometer to verify that it has reached the desired temperature).


Gently wipe the plates clean and turn the heat to sear.


Once the Cinder Grill is ready to sear, rub a little olive oil on the skin side of the turkey and place, skin side down, on the Cinder.


Close the lid and sear the breast for 1:30.


Using a probe thermometer, check the internal temperature at the thickest part of the bird. It should read 150-155°F.


Remove turkey from the cinder and cover with aluminum foil, let rest for 15 minutes before carving.
Never Overcook Again
Try this on Cinder Grill Today