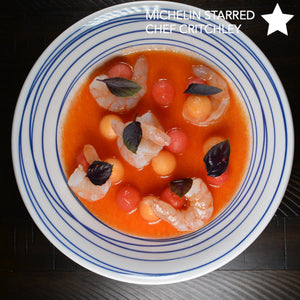 Chilled Shrimp Ceviche by Michelin Starred Chef John Critchley
Slow cooking your shrimp on the Cinder Grill is the best way to achieve the perfect texture.This dish is easy and bursting with flavor. This delicious meal created by our Michelin starred chef is perfect for pescatarians or even carnivores. Just set your Cinder Grill to 158°F and wait for the magic.
Serves 4
Ingredients:

1 pound

21-25 count Shrimp, Peeled and deveined

1Tbsp

 

Salt

1Tbsp

 

Sugar

As needed

Water, for rinsing

2 Tbsp

 

Olive Oil

Salt and Pepper

to season

1/2 each

Lemon, Juiced

1/4 each

Watermelon, Seedless

1 Tbsp

 

Peruvian Yellow Pepper Paste (Aji Amarillo)

1/4 cup

Agave Nectar

2 Tbsp

 

Olive Oil
METHOD:
Preheat Cinder Grill to 158°F. 


Brine shrimp in mixture of water, salt and sugar for 15 minutes.  Drain and pat dry.


Toss shrimp in olive oil, salt, pepper and lemon juice and place in Cinder. Cook with lid closed for 20 minutes.


Separately, scoop watermelon with a small melon baller or truffle scoop and reserve for plating.


Crush remaining watermelon with either a blender or potato masher until juice is formed.


Combine 1 cup watermelon juice with agave nectar, aji amarillo, lemon juice and Olive oil in a small bowl and season with salt and pepper.


Place chilled shrimp in a shallow bowl and garnish with the balls of melon along with other melons that are in season.


Pour the watermelon liquid into the bowl and garnish with purple basil leaves or herbs of your choice.  (preferably seafood friendly herbs like chervil, tarragon, chives, fennel).
Never Overcook Again
Get a FREE lifetime subscription to premium recipes like this from our Chef Partnership Program.