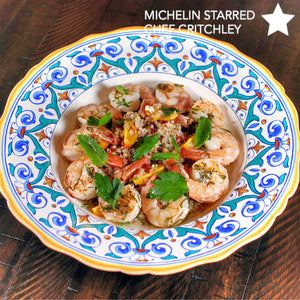 Southeast Asian Shrimp & Pork Packet
Some days we dine with friends and family; some days we dine alone. That's no reason to refrain from treating yourself. Here's an elegant dish of pork, shrimp, and vegetables with Southeastern Asian flavors, all wrapped up en papillote like a present. Best of all, it's easily doubled, if you'd like to share with someone special.
Note: This recipe can easily be doubled. To make four packets one pair will have to wait until the first two are finished cooking.
Note: we left the "shredded vegetables" very vague so you can use whatever you like as long as it's tender. During recipe testing we used a mix of broccoli, carrot and red cabbage for color and flavor.
Ingredients:
For each packet:
1/4  pound peeled shrimp

1/4 pound boneless pork  (country style ribs are good, as are boneless chops), well trimmed of fat and sinew.

1/4 tsp salt

2 scallions, sliced thinly

2 cloves garlic, cut into matchsticks

1 half-inch piece ginger, cut into matchsticks (or 2 tsp grated ginger)

1 tbsp fish sauce (soy sauce can be substituted)

1 tsp sugar

1 tsp sesame oil

1/4 tsp freshly ground pepper

1/2 to 1 serrano pepper, thinly sliced (remove seeds for less heat, include them for more heat)

1 cup shredded vegetables, the more kinds the better [see note]

Cilantro or thai basil for garnish

Lime wedges for garnish

Cut the pork into slices about the size of the shrimp.

Add to the shrimp, toss with the 1/4 tsp salt, and set aside.
Instructions:
Toss the remaining ingredients together and microwave for 3 minutes, until well heated through.

Spread out a 1 & 1/2-foot long piece of parchment paper and pile the vegetable mixture atop.

Place the shrimp and pork atop those, nestling them into the vegetables.

Turn the parchment into a packet following these steps: 

With the ingredients towards the middle of the sheet in an approximately 6 inch by 4 inch pile

Gather the two sides and fold them together in one-inch folds until there is only about a 1-inch space between the paper and the food.

Fold up the paper from the bottom until there's about a one-inch space between the paper and the food. Repeat at the top. Make certain all folds are tight and tucked in.

Place the packet on the Cinder and turn it to 145 F.  When done, open and sprinkle with chopped cilantro or thai basil, and serve with steamed rice or noodles and lime wedges. 
Never Overcook Again
Try this on Cinder Grill Today