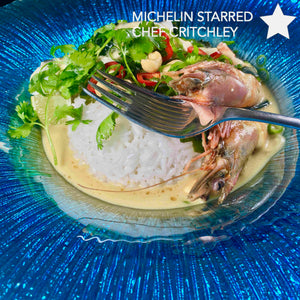 Halibut and Wild Shrimp in Coconut Curry Broth
Halibut and Wild Shrimp in Coconut Curry Broth by Michelin Starred Chef John Critchley
Using non-stick parchment roasting bags, purchased at Whole Foods, we can slowly steam the seafood to perfection in 20 minutes, with all the flavors of Thailand and a mild spice.
Serves 2
INGREDIENTS:
For the Sauce
2 tbsp

vegetable oil

1 tbsp

Green Curry Paste

1 tsp

Muscavodo Sugar (or substitute dark brown sugar)

5 each

Garlic, cloves, crushed

4 each

scallions, white, tops reserved, sliced

1/2 each

Fresno chili, Red, sliced thin (add more or Thai chilies for extra kick)

1/2 each

Lime, cut into 4 pieces

10 ounces

Coconut Milk, unsweetened

1 tbsp fish sauce, Red Boat, (gluten free)
FOR THE PARCHMENT PACKAGE
3/4 pound

halibut filet, sliced into strips 1 inch thick

6 each

Shrimp, head on, peeled, deveined

1/3 cup

cashews, toasted, not salted

4 each

scallion, tops, sliced fine

1/4 cup

Wakame seaweed, reconstituted in room temp water for ten minutes and strained

1/2 each

fresno chili, red, sliced

1/2 each

lime, cut into 4 pieces

12 each

sprigs of cilantro

Salt and Pepper to season the fish

3 cups

Jasmine Rice, cooked and held warm for the plate
METHOD:
For the sauce, heat oil in small sauce pot over medium high heat.


Ad curry paste, sugar, garlic, scallions and chili and lightly brown in the oil (about 3-5 minutes or until aromatic and slightly caramelized).


Squeeze limes and ad whole pieces into the pot, top with coconut milk and cover.


Reduce heat to a simmer and simmer while covered for 10-15 minutes.


Season with the fish sauce and reserve warm.


To prepare the pouches open the bag with the seal side up on a dinner plate.


Season the seafood with salt and pepper and lay them in the bag on the smooth side.


Ad the remaining ingredients to cover the seafood.


Pour ½ cup of coconut sauce into the bag over the ingredients and gently fold the bag up making creases and finishing with a paperclip to hold the steam in.


Preheat the cinder grill to 190°F and place the pouch gently onto the tray, close the lid slowly and be sure that the paperclip is still holding the bag shut.


After 20 minutes, open the lid, remove the paperclip and unfold the bag gently to not let the juices run out.


Check the doneness of the seafood, the shrimp should be bright pink and the fish should be firm but give way when pressed.  If seafood is not done, fold bag up and continue to cook for another 5 minutes until desired doneness (perfectly steamed fish will be warm all the way through and very juicy.)


Carefully remove the bag and transfer to a dinner plate, cut the bag open and divide the contents to two dinner bowls that have the jasmine rice already prepared in them.  Pour the remaining sauce over the top and serve.
Keep extra scallions, cashews, cilantro and chili to top my dish to add more brightness and color as well as heat
Never Overcook Again
Try this on Cinder Grill Today