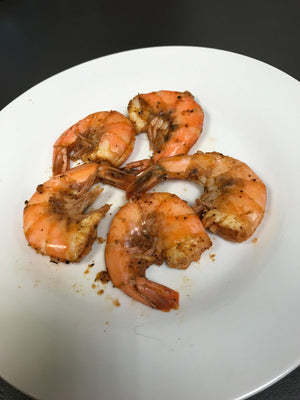 Jamaican Pepper Shrimp
When you need a spicy, convivial, finger-licking snack, consider this lighter alternative to ribs or wings.  In Jamaica bright red shell-on shrimp are commonly available at roadside stores or in hospitable homes, shelled and eaten with delight and perhaps a Red Stripe beer. Bring that sunny tropical goodness to your house with these delicious Pepper Shrimp. 
Note: Annatto, also known as Achiote, is an earthy, deeply red spice from the tropical Americas. It's often found in spice aisles or international aisles, and can be ordered online.  If you can't find it substitute a few drops of red food color to keep the bright hue, but it's well worth seeking out.
Note: The traditional peppers for this dish are Jamaican Scotch Bonnetts. We've gone with Habaneros for availability, but if you find Scotch Bonnetts feel free to substitute them.
*** MODIFY THIS RECIPE FOR THE CINDER. Consider shell on shrimp. Higher heat or longer cook?  https://www.seriouseats.com/jamaican-pepper-shrimp
3 habanero peppers or to taste

1 pound large shell-on shrimp, preferably head-on, rinsed

Half of 1 medium red bell pepper, chopped, 

Half of 1 medium yellow onion, chopped

4 sprigs fresh thyme

3 medium garlic cloves

1 tbsp annatto oil or neutral oil such as vegetable oil

1 tsp salt

1 1/2 teaspoons  annatto powder

1/2 teaspoon garlic powder

1/2 teaspoon onion powder

2 tbsp water

1 tbts distilled white vinegar

6 allspice berries, crushed
Directions
Wearing latex gloves, prepare habaneros; preparation will depend on your heat tolerance. For very spicy heat, stem and chop or slice peppers, keeping seeds and white pith; for medium heat, stem and seed peppers, then chop or slice; for mild heat, halve peppers and discard seeds but do not cut peppers further.
Blend the bell pepper, onion, thyme, garlic, oil, salt, annatto powder, garlic powder and onion powder. Scrape into a bowl and stir in water, vinegar, allspice, prepared habaneros, and the shrimp, still in their shells. Cover and refrigerate at least an hour and up to overnight.
Preheat Cinder Grill to 155F.  Remove the shrimp from the marinade but do not wipe off. Lay out on Cinder plate, cover and cook for about 15 minutes, until shrimp are just cooked through. 
Transfer shrimp to a serving plate and let cool slightly. Season with additional salt, if desired.  Serve shrimp warm or at room temperature, peeling them at the table.
Never Overcook Again
Try this on Cinder Grill Today