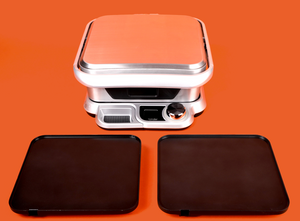 Extra Plates for Speedy Sous Vide & So Much More!
The Cinder Grill is the fastest, most efficient sous vide on the market, the perfect steak cooker and so much more. Its point of contact with the food is a pair of anodized ceramic nonstick plates, which transfer heat evenly for precise results. Each grill of course comes with a set of plates, but we also offer extra sets because they are so useful. Especially after searing, the plates can be switched out to resume cooking. Multiple dishes can be prepared in one cooking session. If a plate is temporarily or permanently out of commission the convenience of extra plates means the Cinder can still operate. For all these reasons and more we recommend an extra set of plates for the Cinder Grill.
Sous Vide More Food, Faster
The Cinder Grill is very fast for sous vide, as we said, but even fast sous vide takes some time to evenly raise a food's internal temperature. Still, one hour for our steak cooker versus six hours for traditional sous vide, in a bulky water bath no less, is a great improvement! An extra set of plates adds convenience. You won't have to wait for the plates to cool down before cooking more food. Just swap them out and go!
Pair and Combine Dishes for Delicious New Results
Using the above method you can also serve Cinder Grill dishes together. For instance, what about a summer steak salad with marinated tomatoes? You can cook and sear a beautiful steak to perfection. Next, (carefully!) swap the hot plates for fresh new ones and sous vide the tomatoes to peak juiciness. Then slice the steak and combine with the tomatoes over a bed of shredded romaine for a luscious combination. This is just one example of how recipes can be combined using two sets of plates.
The Convenience of Backups : Small Mishaps
Occasionally small kitchen mishaps happen. For instance, proteins are notoriously sticky and can leave residue on even the slickest nonstick surface. (This is one of the reasons we recommend cooking on parchment, but that's another essay.). While you deal with that residue (we recommend a scrub with salt, Barkeeper's Friend, and/or a nylon scrubber, but no metal!) you don't have to wait to use your delicious steak cooker. With spare plates you can bring one in and keep cooking at your convenience.
The Convenience of Backups: Larger Issues
Unfortunately, not everything in life is perfect. If a cooking plate develops an internal fault you can contact us (just drop a quick email to help@cindergrill.com), and if your unit is under 6 MONTHS warranty we can replace the plate for you. But shipping takes a little time, unless you have extra plates to hand. Then you won't even notice the wait at all while you continue to happily use your steak cooker until the replacement part arrives.
Extra Plates For Your Steak Cooker And Beyond
For all these reasons we recommend an extra set of plates, and sell them here:
https://www.cindergrill.com/products/ceramic-cooking-plate-set
You can use the code VIPPLATES for a $20 discount. Meanwhile, enjoy your Cinder Grill!
Never Overcook Again
Try this on Cinder Grill Today