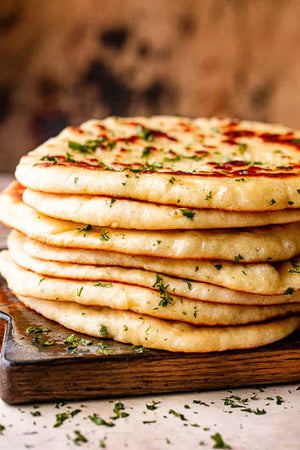 Flatbreads on the Cinder Grill
Grilling bread is an excellent route to a quick meal, and the Cinder Grill excels at grilling bread. Its accurate temperature control and flat nonstick surfaces produce evenly toasty results. Here are some suggestions for various ways to use the Cinder Grill to prepare flatbreads.
Grilling Bread on the Cinder Grill
Raw dough can be cooked on the Cinder Grill -- consider our Baked Brie, for example.  In order to make flatbreads on your Cinder, set it to 325 degrees for dough to cook through, or 425 for some charring and deep toasting.  Roll out your dough no more than a quarter inch thick, and cook it on one side until the top side starts to bubble, then turn it over to cook that side..  You can add any fat you like when cooking at 325, but for higher heat cooking use fats with a high smoke point such as ghee or safflower.
Add To Your Flatbread
Once cooked or purchased, flatbreads offer limitless possibilities for a delicious quick meal.  We have an example on our Recipes page, featuring eggplant and halloumi. Other possible toppings include other sauteed vegetables, other cheeses, cooked meats, fruit jams with cheese, and so on.  Basically anything you like eating with bread will be even better on grilled bread, with the possible exception of ice cream (but we have a tasty substitute).
Toasting up a Quick Meal
Even though they start with sliced bread, panini count as flat bread due to the flat nature of sandwiches.  The Cinder Grill excels at panini, putting just enough pressure on these grilled bread stacks to meld them and their fillings together. Furthermore, here's the substitute we mentioned for ice cream: a panini filled with rich butterscotch ganache.  As well as being delicious in itself, this sandwich demonstrates the extreme versatility of panini.
Another form of quick meal is the quesadilla, which is built on tortillas, a popular and inexpensive form of flatbread. Again, anything you like can go into a quesadilla. 350F is the best temperature to cook them to toasty crispness outside and melty richness inside. 
All these suggestions are just the beginning of flatbread's versatile possibilities when it comes to the Cinder Grill.  We encourage you to experiment with your favorite flavors and foods, and above all else to enjoy grilling bread on the Cinder Grill!
Never Overcook Again
Try this on Cinder Grill Today