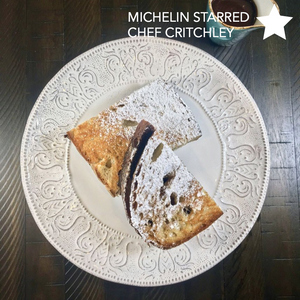 Grilled Butterscotch Ganache Sandwich
Grilled Butterscotch Ganache Sandwich by Michelin Starred Chef John Critchley
This fun "dessert grilled sandwich" is even more indulgent than a pain au chocolate and easier to make.  Our personal chef uses almond extract to enhance the aromas of the bread and muscavado sugar but using vanilla or Dark Rum works just as well.
Serves 4-6
Ingredients:
For the ganache
4 tbsp

Butter, unsalted

½ tsp

sea salt, finely ground

⅓ cup

Muscavado Sugar, packed (substitute dark brown sugar)

½ cup

heavy cream

3.2 oz

65% dark chocolate

¼ tsp

pure almond extract
For the sandwich
6 each

½ inch thick slices of pain de campagne, (substitute french bread boule)

4 tbsp

Butter, unsalted

As needed

confectioners sugar (for dusting)
METHOD:
Melt butter in a small sauce pot over medium heat.


Ad the sea salt, sugar, and heavy cream and bring to a simmer.


Simmer, while whisking slowly, for 2 minutes.


Remove from heat and ad the chocolate and almond extract.


Let the chocolate sit for 1 minute then gently stir until combined.


Strain and cool in the refrigerator, overnight or for 1 hour.


Spread ½ cup of the ganache onto one layer of bread then sandwich with the top layer of bread.


Using room temperature butter, spread on both sides of the sandwich to evenly cover lightly.


Set cinder grill to 350°F (recommended bread temperature) and allow to preheat.


Place sandwich on cinder grill and close the lid.  Set a timer for 5 minutes.


When complete, remove from grill and let stand on a cutting board for 5 - 10 minutes to allow chocolate to cool slightly.


Sprinkle with confectioners sugar and slice.
Never Overcook Again
Try this on Cinder Grill Today