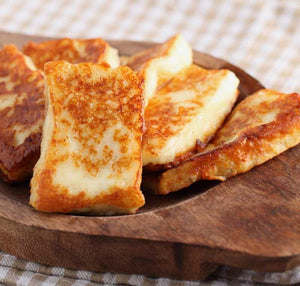 Reheating Food on the Cinder Grill
The Cinder Grill excels at cooking meals. However, did you know that it also reheats leftovers and microwave meals very well? In these frugal days we all want to avoid food waste and use up leftovers by transforming them into new meals. The Cinder Grill can help with that in several ways. By reheating to precise temperatures it prevents toughening and overcooking. Also, its single degree precision prevents 'warmed over flavors' in the food. Furthermore, the Cinder can also heal through microwave meals, often at better quality. Best of all, you can 'set it and forget it' . Just put your food on your Cinder and it will let you know when it's reached temperature. The Cinder Grill maximizes leftovers just as it does cooking from scratch.
Avoid Food Waste With Proper Reheating
One common issue with reheating food is subsequent overcooking. After your Cinder brought your steak to the perfect temp and texture, who wants to turn the leftovers tough and dry? You can't use up leftovers you'd rather not eat. However, the same Cinder Grill which brought your steak to temp once can do it again! First set your Cinder to your chosen serving temperature -- 140F is a good choice for food safety reasons, but solid pieces of food such as a chunk of steak can be heated to lower as long as their surfaces are seared again. Then simply set it and forget it; let the Cinder heat the food and alert you when it's reached its target. 
Use Up Leftovers In New Ways
In contrast to simple reheating, the Cinder Grill also helps you avoid food waste by modifying and combining items. Use up leftovers by making new dishes of them! For example, instead of warming steak and asparagus from last night's dinner, try cutting both into bite-sized pieces. Then turn the Cinder to 350, and use it as a griddle to stir-fry these items. Add a handful each of spinach and parsley for a flavorful and healthy lunch. The Cinder's nonstick plates and precise heating allow you to experiment without fear, just adventure!
'Set It and Forget It'
One of the best features of the Cinder Grill is that it can cook quietly without supervision while you're busy elsewhere. This also works for rewarming leftovers and microwave dishes. Instead of 'nuking' a dish for a few minutes, finding it molten on the edges and frozen in the middle, stirring frantically and microwaving again, and ending up with a range of temperatures from cold to burnt, try this. Take the microwave dish, make certain it's in a heatproof container, and put it in the Cinder Grill on the 'frozen' setting. Then leave it to the Cinder to thaw it gently and raise it to the same even temperature all over. With no risk of unsafe cold patches or noxious burnt areas, your food will be nothing but inviting. 
The Cinder Grill is even more versatile than you might think.  The same single degree precision and even heating which make it cook so well also maximize the quality of rewarmed food and pre-prepared dishes. Avoid food waste with its expense and guilt! Deliciously se up leftovers with the Cinder Grill.
Never Overcook Again
Try this on Cinder Grill Today