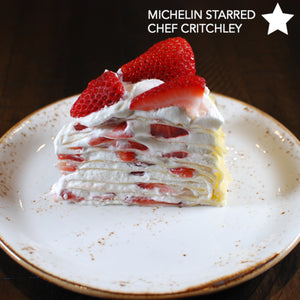 Crêpe Cake by Michelin Starred Chef John Critchley
Crêpe Cake with Chantilly Cream and Fresh Strawberries by Michelin Starred Chef John Critchley
Cakes aren't just for birthdays anymore. They can add flair to any breakfast or be the perfect treat for any special day. Cooking crêpes on Cinder Grill is very easy and guarantees perfect results every time with the precise  temperature control.
Topped with fresh strawberries, this delicious dish is not one to miss. Eaten straight away or saved for a dessert showstopper, this cake will have your guests coming back for more.
Serves 6-8
Ingredients
2 each

Eggs, beaten

¾ cup

Milk, Whole

½ cup

Water

1 cup

Flour, All Purpose

3 Tbs

Butter, Melted

½ tsp

Almond Extract

1 tsp

Lemon, Zest

1 pint

Strawberries, Sliced Thin

2  cups

Heavy Cream

½ cup

Confectioners Sugar

¼ tsp

Almond Extract

 
METHOD
In a medium mixing bowl, combine the eggs, milk, water, with the flour and whisk until thoroughly mixed. (about 2 minutes).


Add the melted butter and flavorings and stir in thoroughly.  Let the batter sit covered for one hour, or overnight in the refrigerator, to relax (not doing so results in tough thick crepes).


While the batter is resting, rinse the strawberries and pat dry.  Remove the stems and any residual green and slice ¼ in thick and reserve.


With a stand mixer or hand whisk, whip the cream, sugar and extract to semi firm peaks (should be relaxed, not too stiff).


To cook the crepes, set the cinder grill to 246°F and allow to heat up.


Using a ½ cup measure and an offset spatula,  pour ½ cup of the batter onto the cinder grill in a zigzag motion to cover as much of the griddle as you can (it won't cover the entire grill) Use the spatula to smooth out the remaining batter and close the lid.  The crepe will be ready in 30 second and can hold up to 2 minutes in case you get distracted, maybe more be could cause it to become tough.


Carefully remove the crepe and reserve on a clean plate.


Repeat step 6 & 7 until the batter is gone (makes 10 crepes).


For assembly, lay one crepe on the desired serving platter. Spread ½ cup of the whipped cream with an offset spatula to the ends of the crepe.  Lay slices of strawberries evenly and cover with the next layer of crepe. Repeat steps using all the crepes and whipped cream. Garnish the cake with whole strawberries on top of the final layer of whipped  cream.


Refrigerate the cake for 20 minutes to 2 hours prior to serving.
Never Overcook Again
Get a FREE lifetime subscription to premium recipes like this from our Chef Partnership Program.