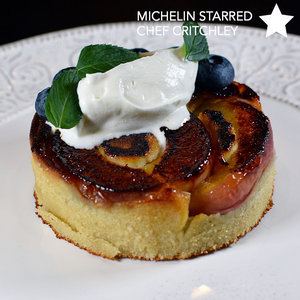 Doughnut Peach Almond Cake (Gluten Free)
Doughnut Peach Almond Cake (Gluten Free) by Michelin Starred Chef John Critchley
Stone fruits picked at their peak ripeness and combined with this light, gluten free almond cake make for of my favorite desserts on a hot summer night. Especially when still slightly warm from the Cinder Grill. 
Serves 2
Ingredients:
FOR THE PEACHES
5 each

Doughnut peaches, cored and cut in half

1/2 ounce

honey, clover or raw

3 each

Sage leaves

1 &1/2 ounce

Butter, Melted
FOR THE BATTER
2 each Eggs, Large

1/4 tsp extract, almond, pure

Pinch

sea salt

1/3  cup

Agave Nectar

1/2 tsp

baking soda

2 & 1/2  cups

Almond Flour, Fine ground

1/4 cup Butter, Melted
METHOD:
For the peaches, melt the butter with the sage to release the aromas.


Mix the melted butter with the honey and brush over the peaches.


Preheat Cinder to 300 °F and place the peaches on the plate. DO NOT CLOSE THE LID.


Cook the peaches for 15 minutes until lightly caramelized and softened but not too soft. Remove from grill and set aside.


Separately, while the peaches are cooking, whisk together eggs with extract, sea salt and nectar.


Add half of the almond flour and continue to mix with whisk.


Add melted butter and whisk together.


Add remaining almond flour and fold together with a spatula.  Dough should resemble a loose cookie dough; since there is no gluten to hold it together, it won't over -mix and toughen.


To cook the cakes, turn the Cinder grill up to 325 °F.


Place 4 each 4 inch ring molds on the griddle and divide the peaches between the four forms.


Distribute the batter evenly across all four and gently press with offset spatula to smooth the surface.


Close the Cinder grill lid and set a timer for 8 minutes.


When timer is up, carefully lift the lid and check the cakes with a cake tester (because the peaches are still warm, these cakes cook fast, but they won't necessarily overcook quickly).


Gently lift the cakes with a spatula and flip over onto a plate.


Let cool for 5 minutes and using a knife, gently score along the inside of the rings to release the cakes. (cakes should release easily due to the amount of butter in the dough).


Garnish with ice cream, whipped cream, berries or powdered sugar.
Never Overcook Again
Try this on Cinder Grill Today