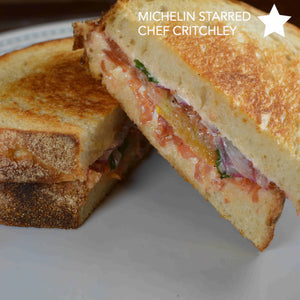 Heirloom Tomato & Mayo Sandwich
Heirloom Tomato & Mayo Sandwich by Michelin Starred Chef John Critchley 
This comforting sandwich is even better with slices of chorizo, red onion and herbs on Artisan Bread.  Play around with your favorite flavors and ingredients to create your own signature version. 
Serves 1
INGREDIENTS:

2 each

Tomatoes, Sliced, any variety

1 each

Small red onion, sliced thin

¼ stick

Chorizo, or other dried sausage, sliced thin

4 Tbsp

Mayonnaise, Duke's preferably but others will do

Salt and Pepper to taste

4 each

Slices of Rustic French Bread

Butter, softened, as needed
METHOD:
Preheat the cinder grill to 350°F.


Spread the mayonnaise on each slice of bread evenly.


Build the sandwich with chorizo slices, tomato, onion and basil leaves.


Season the fillings with salt and pepper and top with the other piece of bread.


Butter both sides of the sandwich and place on the Cinder griddle plates.


Close the lid and set a timer for 8 minutes.


Remove sandwich from Cinder and let rest for 2 minutes.


Slice and serve with chips and pickles.
Never Overcook Again
Try this on Cinder Grill Today