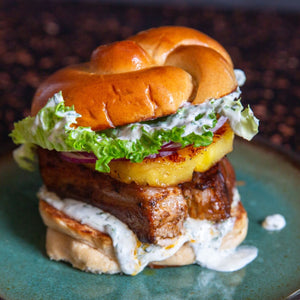 Jerk Pork Belly Buns with Grilled Pineapple

Jamaican jerk seasoning is the culinary equivalent of ireworks: it's full of explosive flavor.
Here, it's paired perfectly with sweet pineapple and a cooling sour cream sauce, transforming pork belly into the most decadent of sandwiches. This recipe will give you tender succulent sous-vide style pork belly in no time, then use your Cinder Grill to sear your pork for crispy crackling. This recipe will make more of the jerk paste than you'll need for the pork, so freeze the extra and keep it for the next rainy day: It works especially well on grilled chicken or shrimp.
The chili peppers in the jerk paste are not for the faint of heart. Scoop out the seeds to tame the heat… don't worry we won't tell.
SERVES 4
Ingredients:
FOR THE PORK
2 lbs pork belly (~1 inch thick)
2 tbsp red wine vinegar
6 cloves garlic, peeled
1-2 scotch bonnet chilis
3 tbsp ground/whole allspice
2 tbsp fresh thyme leaves
1 tbsp brown sugar
1 tsp cinnamon
1/2 tsp nutmeg
1 lime, juiced
3 scallions
2 tbsp soy sauce
1/4 cup water
Salt
FOR THE SAUCE
1 cup sour cream
1 clove garlic
1/2 lime, zested and juiced
2 tbsp fresh cilantro leaves, finely chopped
2 tbsp fresh mint leaves, finely chopped
TO SERVE
4 slices pineapple
4 leaves lettuce
4 thin slices red onion (optional)
4 brioche buns
METHOD:
The day before you plan to eat, cut the pork belly into eight equal slices and season well with salt. Add the remaining pork seasoning ingredients to the bowl of a food processor, blend until smooth, then smother the pork with the marinade. Cover and refrigerate overnight.


The following day, set your Cinder device to 165°F and add the pork to the grill.


While the pork cooks, mix together the ingredients for the sour cream sauce in a small bowl, then cover and refrigerate until needed.


Once the pork has come up to temperature, remove it from the grill, wipe the plates clean and set your device to sear mode. First, sear the buns (cut-side down, leaving the grill open) for 45 seconds. Then sear the pineapple slices (lid closed) for 90 seconds.


Finally, sear the pork belly for at least 90 seconds, rotating half-way through so that all the long sides get browned well.


To assemble, spread both sides of the buns with sauce, divide the pork pieces evenly, and top with pineapple, onion, and lettuce. Serve immediately alongside white rice or sweet potato fries.
Never Overcook Again
Try this on Cinder Grill Today