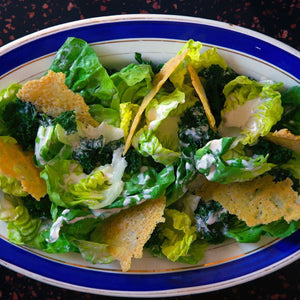 Kale Caesar Salad with Parmesan Crisps

What are fricos? Parmesan crisps (or fricos, to use their Italian name) make for a visually stunning and devilishly delicious upgrade from the traditional crouton in this Caesar salad. And while they look impossibly intricate, they couldn't be easier to make on Cinder's super-non-stick plates. 
Transform this dish from spectacular side into the star of the meal by adding a perfectly cooked chicken breast - check out our chicken recipes.
SERVES 4
Ingredients
1 small head lettuce
1 small bunch kale
1/2 lemon, juiced
1 cup plus 2 tbsp grated parmesan
1/4 cup mayonnaise
2 tbsp water
1 tsp red wine vinegar
1 clove garlic, finely grated
2 anchovy fillets
Salt
METHOD
Tear the kale into small pieces, discarding the tough stalks. Place in a bowl, adding the lemon juice and a pinch of salt. Massage the lemon and salt into the kale leaves and set aside to tenderize.


To make the parmesan crisps, set your Cinder device to 375 F. Once the plates have come up to temperature, sprinkle a quarter of a cup of grated parmesan directly onto the grill in a thin, even circle. The cheese will begin to sizzle and, after about a minute, will be fully melted and turn golden brown.


Once this occurs, switch off the device and allow to cool for an additional minute. After the cheese has cooled slightly, use a spatula to gently pry the crisp from the grill and transfer to a plate. Repeat this process twice more, until you have four crisps and two tablespoons of parmesan remaining.


To make the dressing, add the remaining two tablespoons of parmesan in the bowl of a food processor, along with the mayonnaise, water, red wine vinegar, garlic, and anchovies. Blend until smooth.


To serve, tear the lettuce into pieces and add to a large plate along with the kale. Drizzle over the dressing and add fragments of the parmesan crisps for a savory garnish.
Never Overcook Again
Try this on Cinder Grill Today