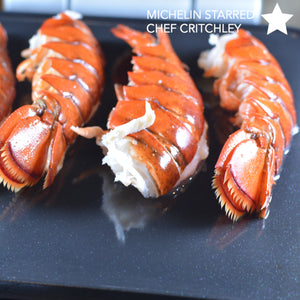 Lobster Tails in Butter Sauce
Lobster Tails in Butter Sauce by Michelin Starred Chef John Critchley
There's nothing better than delicately cooked lobster in a rich and citrusy butter sauce.  Using the Cinder provides an impressive display of perfectly cooking an otherwise difficult protein.
Serves 2-4
INGREDIENTS:

2 each

Lobster Tail, Split

1 each

fresno chili, sliced thin

1 each

serrano chili, sliced thin

2 each

pickling cucumbers, sliced thin

1 each

dill, sprig

1 each

Parsley Stem, picked

To taste

Sea Salt, Coarse Ground
 For Butter Sauce:
1 cup

White wine

1/4 cup

Sherry vinegar

1/2 each

lemon, juiced

1 each

Shallot, sliced

1/4 each

serrano chili, sliced

1/4 each

fresno chili, sliced

1 each

 Dill Sprig

1 each

Parsley Sprig

Salt and pepper to taste

1/4 pound

butter, softened
METHOD:
Prepare the reduction for the sauce:


Place the shallots, chilies, salt and pepper in a small pot with the white wine and sherry vinegar.


Bring to a simmer over medium high heat and reduce  (approximately by three fourths.)


As you are reducing the liquid, Season the lobster tails with salt and pepper and set your Cinder to 145°F . Cook the lobster tails for approximately 25 minutes with the lid closed.


Once your sauce is reduced, lower the heat to low.


Squeeze the lemon into the sauce and let cook for one minute.


Using a whisk, whisk in the butter one tablespoon at a time being sure to allow the butter to dissolve into the sauce before adding the next tablespoon.


Once all the butter is combined, set the sauce aside in a warm place until needed.  Do not let cool as it may break and become watery, versus creamy.


Remove the lobster tails from the Cinder and transfer them to the serving dish.


Garnish the lobsters with chilies, cucumbers and dill and pour the butter sauce over the top.
Never Overcook Again
Try this on Cinder Grill Today