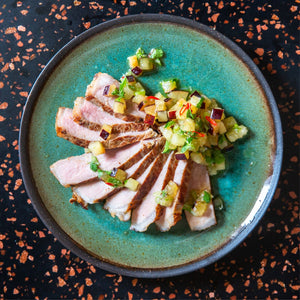 Marinated Pork Chops with Plum Relish and Soy Sweet Potato

Sweet and sour plums pair perfectly with tender pork chops in this simple and nutritious weeknight meal. Also, thanks to Cinder's precision cooking, dry, chewy pork chops are a thing of the past. Each bite of this dish is bursting with fruity flavor, which is further enhanced the longer you can leave the pork to marinate before cooking.
SERVES 4
Ingredients
FOR THE PORK
2 lbs bone-in pork chops (~3/4 inch thick)
1 small red onion
4 cloves garlic
1 small red chili
1/3 cup fresh oregano
1 cup orange juice
1/4 cup apple cider vinegar
Salt
FOR THE RELISH
2 plums, finely diced
1-inch piece ginger, finely grated
1 clove garlic, finely grated
2 tbsp fresh oregano, finely chopped
1 small red chili, finely sliced
1 tbsp sesame oil
2 tbsp olive oil
1/2 lime, juiced
ON THE SIDE

2 large sweet potatoes, cut into wedges
2 tbsp soy sauce
1 tbsp mirin (or honey)
3 tbsp canola oil
Salt
METHOD
Season the pork well with salt and place into a medium-sized bowl. Add the remaining marinade ingredients to the bowl of a food processor and blend until relatively smooth. Pour the marinade over the pork chops, making sure all sides are coated, then leave covered in the fridge for at least 4 hours, preferably overnight.


Once the pork has had time to marinate, set your Cinder device to your desired temperature (143 F is recommended for medium) and place the chops on the grill.


While the chops are cooking, heat your oven to 475 F and prepare the sweet potatoes. Toss the wedges, soy sauce, mirin, and oil in a large bowl with a good pinch of salt. Transfer to a metal baking tray with one cut-side down and roast for 45 minutes, flipping once to ensure even caramelization.


Meanwhile, combine the ingredients for the plum relish in a small bowl and set aside.


Once the pork is cooked, remove it from the grill, wipe the plates clean, and set your device to sear mode. Brush the hot plates with a little canola oil and return the chops to the grill, searing until dark brown.


To plate, slice the pork chops thinly and spoon over the relish. Serve with sweet potato wedges alongside.
Note: Your Cinder keeps food warm but if you're cooking your pork to medium rare or a lower temperature than 140°F, don't let the pork sit for more than two hours.
Never Overcook Again
Try this on Cinder Grill Today