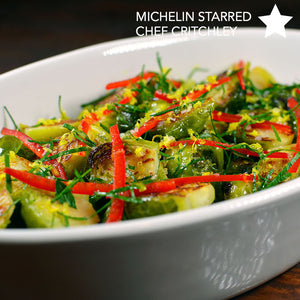 Roasted Brussels Sprouts with Lemon, Parsley and Olive Oil by Michelin Starred Chef John Critchley
Vegetables cook to perfection on the Cinder Grill, because controlling temperature and time is essential in creating great vegetable dishes.
Serves 2-4
Ingredients:
1/2 pound

Brussels Sprouts, Cut in half 

1 Tbsp

Olive Oil

Salt & Pepper

1/2 each

Bell Pepper, Red, Julienned

1 each

Lemon, zested and juiced

1/4 bunch

parsley, Julienned
METHOD:
Rinse the Brussels sprouts and cut in half.


Toss the Brussels sprouts in olive oil and season with salt and pepper.


Place cut side down on the Cinder Grill and close the lid.


Set the Cinder to 185°F (this is the perfect temperature for most vegetables to break down the cell structure and tenderize without overcooking).


Once 185°F is achieved (approximately 45 minutes) lift the lid and allow some steam to escape.


Drizzle the sprouts with more olive oil and close the lid. Adjust the temperature to sear without removing the sprouts.


Once the Cinder reaches searing, press the button and sear just once.


Lift the lid and remove the sprouts to a small mixing bowl and toss with the lemon juice, zest, parsley and peppers.


Adjust seasoning with olive oil and sea salt and place in a serving dish.
Never Overcook Again
Try this on Cinder Grill Today