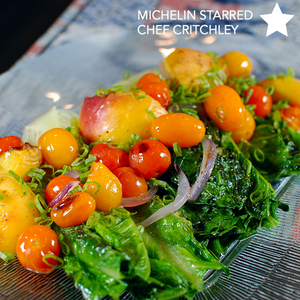 Romaine Summer Salad by Michelin Starred Chef John Critchley
This delicious salad uses the Cinder Grill to sear the fruits in foil bags. This simple step adds so much character to the overall dish and greatly enhances the flavor.
Serves 4-6 
Ingredients:
2 cups

Cherry Tomatoes, variety is good

1/4 each Red onion, sliced

2 Tbsp Olive Oil

1 Tbsp Aged sherry vinegar

5 each Peaches, cut in quarters and pit removed

1/4 each Red Onion, sliced

2 Tbsp Olive Oil

1 Tbsp aged sherry vinegar

2 each

Romaine hearts, cut in half and rinsed in cold water, pat dry

1/2 bunch scallions, sliced thin

Salt and Pepper to taste
FOR THE VINAIGRETTE
1/2 cup

cooking juices combined from both the tomato and peaches

1  Tbsp Clover honey

1 Tbsp aged sherry vinegar

3  Tbsp olive oil

Salt and pepper to taste

METHOD:

In two separate mixing bowls, toss the tomatoes and peaches with the red onion, oil, vinegar, salt and pepper and place in aluminum grill bags. Seal the bags and set aside.


Pre-heat Cinder grill to 400°F.


Place, one bag at a time, on the Cinder and cook for 4 minutes with the lid closed.  Remove and let sit in the bag to marinade for 5 minutes.


Open the bag to release the heat and let the peaches and tomatoes cool to room temperature.


Brush the romaine with olive oil, salt and pepper and place cut side down on the cinder for 2 minutes without closing the lid to only brown one side.


Transfer romaine to a serving platter and arrange brown sides up.


In a small mixing bowl, make the vinaigrette using the juices from the two foil bags as well as additional vinegar, olive oil and salt & pepper if needed.


Toss the peaches, tomatoes and scallions with vinaigrette and spoon over the romaine allowing it to soak up the extra juices.
Never Overcook Again 
Try this on Cinder Grill Today