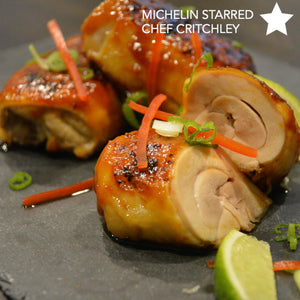 Slow Cooked Chicken Thighs
Slow Cooked Chicken Thighs by Michelin Starred Chef John Critchley
These juicy boneless chicken thighs and their ginger-soy glaze go with just about anything.  Cooked slow and low, they're quickly ready when you want them just by basting then searing them for 2-3 minutes to finish.
Serves 4-6
INGREDIENTS:
2 lb 

Boneless chicken thighs

1 Tbs

Cumin, ground

1 Tbs

Sea Salt, Fine Ground
For the glaze:
1 Tbs

Ginger, minced

1 Tbs

Molasses

½ cup

Rice Vinegar

½ cup

ketchup

2 Tbs

soy sauce

½ cup

Drippings from Cinder

¼ cup

light brown sugar
METHOD:
Season the chicken thighs with sea salt and cumin and wrap them tightly with their skin into rolls.  Place on cinder grill and set to 167°F (or use the app for dark meat, chicken)


While the chicken thighs are cooking (approximately 70 minutes) measure the ingredients for the glaze into a small sauce pot (note: you may use chicken stock instead of drippings from cinder)


About half way through cooking, the cinder will have a lot of drippings collected in the drip tray for you to use in the sauce or discard.


After adding the drippings, turn the sauce pot up to medium high heat and allow to come to a complete boil, then reduce to a simmer and allow to thicken. 


Once thickened, 15-20 minutes, pull the sauce off the stove and reserve it for basting the chicken thighs after searing.


When thighs have reached 167° F, remove the chicken from the cinder and wipe it clean.  Turn heat up to sear and close the lid.


Gently brush the thighs with olive oil and place on cinder grill for searing, close the lid and allow to sea for 2 - 3 minutes.


Remove the lid and brush the thighs with the glaze and move to a serving tray. 
Never Overcook Again
Try this on Cinder Grill Today