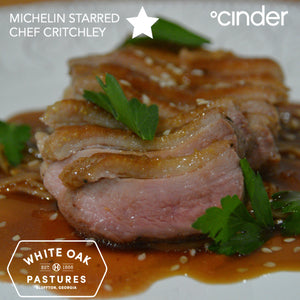 White Oak Pastures Duck Breast by Michelin Star Chef Critchley
Duck breasts are a special treat.  Duck is thought of as dark meat poultry, but  in truth, duck breasts are most like steak. Like steak they're best when rare or medium rare, but unlike steak they are quite low in saturated fat.  
Duck's richness pairs well with aromatic, tart, and sweet flavors. Here, Chinese five-spice scents the dish, while pickled ginger, plummy hoisin, and glossy honey make a mouthwatering sweet-sour sauce.
One concern about duck is the fat content. However, it's all in the skin -- the meat is quite lean. Rendering over steady heat drains away the fat while making the skin crisp and golden.  Start with quality duck breasts from White Oak Pastures, then cook them to the perfect temperature on the Cinder Grill, and you can't go wrong with this delicious meat. 
Serves 2-4 
Instructions: 
1  Pkg

Duck Breast (two halves)

1  tsp

Chinese 5 spice

2  tsp

Sea Salt, Fine

Sesame oil as needed
For the sauce
¼ cup

Pickled Ginger, Sliced thin

1 Tbs

Hoisin Sauce (bottled)

2 Tbs

Honey

1 cup

Chicken Stock

2 Tsp

Toasted Sesame Seeds
METHOD
Remove duck breasts from package and rinse with cold water, pat dry with paper towels.  Score the skin with a sharp knife


Season with sea salt and chinese 5 spice and sprinkle a little sesame oil on the skin.


Place the duck breasts on the Cinder, skin side down, and close the lid.


Set the temperature to 130°F (approximately 30 minutes).


For the sauce, combine the ingredients and bring to a boil.


Reduce the heat to a simmer and allow sauce to thicken gently. (approximately 10 minutes).


Once duck is cooked, remove from the Cinder and wipe the plates clean.  Set the Cinder to sear.


Place duck skin side down and sear for 1 minute.  Remove the duck and allow to rest for 5 minutes before slicing.
Never Overcook Again
Try this on Cinder Grill Today