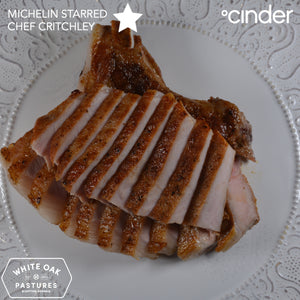 White Oak Pastures Pork Chops By Michelin Star Chef Critchley
Pork and the Cinder Grill are perfect partners. Today's lean pork needs careful handling to prevent dryness and toughness.
Brining is a lot of help, but precision cooking is key. The Cinder Grill provides that precision with its edge to edge temperature control and quick sear setting. Enjoy perfect, juicy pork chops every time from the Cinder Grill!
Serves 2-4
INGREDIENTS:
1 Pkg

Pork Chops, bone in
For the brine:
3 cups

water

¼ cup

Sea Salt

¼ cup

Brown Sugar

1 each

Bay leaf
To cook:
2 tsp

Sea Salt, Fine

1 tsp

garlic powder

2 tsp

Sweet smoked paprika (spanish)

1 tsp

Black pepper, ground

Olive Oil as needed
Method:
Remove pork chops from package and rinse with cold water.


Heat the salt, sugar and bay leaf in 1 cup of water to a simmer.  Remove from heat and add the remaining 2 cups of water and let cool to room temperature.


Place pork chops in a container that can hold both the pork chops and the brine.


Cover the pork chops with the brine and place in the refrigerator, covered, for 1 hour and up to 4 hours.


Remove the chops from the brine and pat dry.


Season with salt, garlic powder, sweet paprika and black pepper and place on the Cinder grill.


Close the lid and set the Cinder grill to 145°F.


Once cooking is complete, remove the chops and wipe the cinder plates clean. Turn the heat up to sear.



Rub the pork chops with olive oil and sear in the Cinder for 1 minute.
Never Overcook Again
Try this on Cinder Grill Today