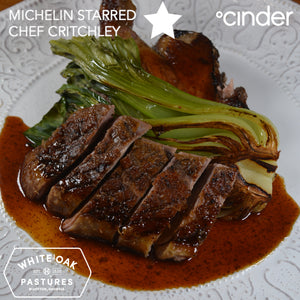 White Oak Pastures Whole Duck Roast By Michelin Star Chef Critchley
Chef Critchley points out, "Whole birds are easy to prepare on the Cinder Grill."  Taking advantage of the flavor remaining on the Cinder's grill plates, the bok choy is cooked immediately after the duck sears, in the residual heat while the Cinder is cooling down. Also, birds cooked this way, with their backbones removed, are incredibly easy to carve and serve at the table. Another bonus!
Serves 2-4 
INGREDIENTS:

For the Duck:
2 Tbsp

Sea Salt, Coarse

2  tsp

Black Pepper, Ground
For the Sauce:
1 cup

Drippings from Cinder Grill

1 TBS

Ginger, Minced

¼ cup

Mirin (Sweet Japanese Cooking Wine)

2 TBS

Soy Sauce

2 TBS

Honey
METHOD:
Rinse duck with fresh water and pat dry, inside and out.


Tuck wings behind the back and manipulate the legs, with the drumsticks tucked in, so that the bird is more or less flat.


With a sharp knife, score the skin of the breasts to allow the fat to melt away during cooking.


Sprinkle salt and pepper inside and out and place the bird breast side up on the Cinder grill.


Close the lid and set the temperature to 175°F (this will allow the bird to cook fully and remain juicy).


Once the Bird is cooked, save the drippings to make the sauce.  Remove the duck from the grill and wipe the grill clean.


Turn the Cinder grill to 350°F and allow to heat up.


While the grill is heating, combine all the ingredients for the sauce in a saucepot and bring to a simmer.  Allow the sauce to simmer gently until it has thickened (about ten minutes).


Lightly rub the duck with olive oil and place, breast side down, on the Cinder grill.


Close the lid and allow it to gently crisp.  Check the duck every 5 minutes until golden brown color is achieved.


Once color is achieved, remove from the grill and place on the cutting board.  Allow to cool for 10 minutes.


Before cleaning the Cinder, those juices and oils are going to help cook the bok choy or other vegetables.


Place the bok choy, cut side down and close the lid.  Allow to cook until tender (about 5-8 minutes).



To serve, separate the legs from the body and place on a serving tray. Carve the breast off the bone and slice.  Pour the sauce over top or enjoy on the side.
Never Overcook Again
Try this on Cinder Grill Today