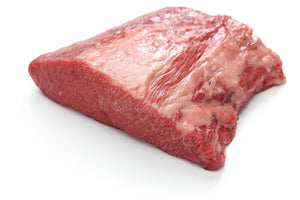 Inexpensive Cuts on the Cinder Grill
The food supply chain has been a newsworthy topic recently. Reports of meat shortages have been increasing.  One article was titled "Skip the steak, buy the brisket."  The Cinder Grill can help with that brisket and other inexpensive cuts, by making the tenderizing effects of sous vide cooking available without muss or fuss. Here's how to cook inexpensive cuts on the Cinder Grill.
Tenderizing Inexpensive Cuts
It's been known forever that that long, moist cooking tenderizes inexpensive cuts of meat.  Where the sous vide method shines is in holding meat at a precise temperature well below the boiling point of water. This way the meat tenderizes but doesn't overcook or disintegrate, retaining its shape and pinkness while becoming toothsome. The Cinder Grill further improves on sous vide by doing away with the bulky water bath,  troublesome plastic bags, and day-long durations of traditional sous vide.
Cooking on the Cinder
To tenderize a tough cut on the Cinder, time is the key. However, much less time is needed than with traditional sous vide.  Bring the meat to your desired temperature, say 135F, then keep it there for a couple of hours (rather than 24 or more). Set a timer, then check the meat every half hour until fork tender. Afterwards, sear, slice, and serve as usual. (Our article on searing may be helpful in this regard.)
The first time making a slow-cooked cut on the Cinder Grill, try cooking on an easy day when it doesn't matter so much what time the food is ready. That will give an estimate of how long the process takes, to be applied to more time-dependent dinners. Also don't forget to season the meat thoroughly. The long cooking period allows flavors to really soak in.  Whenever you choose to cook inexpensive cuts on an indoor grill, the Cinder Grill is ready to provide perfect results.
Never Overcook Again
Try this on Cinder Grill Today