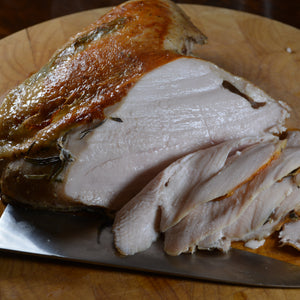 Thanksgiving is a celebration and celebrating should be fun! However, the sad reality is that it often isn't so much fun for the cook. The big meal tends to take over the kitchen, the day and even the week. But what if there's a better way? Why not Why not use the grill to cook several dishes at the same time and gain the bonus of smoky flavor? Grilling or smoking a turkey makes for a classic dish, but many other components can also be grilled, all adding up to a festive and easy meal. 
Easy Centerpieces: Turkey and More
As mentioned before, grilling a turkey is less trouble than it might seem. Smoked turkey especially turns out burnished and gorgeous, perfect for the star position on the holiday table.  However, while the grill is lit, you can contemplate other options to add a little lively variety to your Thanksgiving. How about using the ambient smokiness to reheat and crisp a pre-cooked ham? Or serve a classic brisket to give your guests something to be thankful for!
Grilling Sides: Vegetables and Potatoes
There are two main ways of grilling vegetables, be they roots, greens, or any other variety.  They can be tucked into foil packs to steam in their own juices, which is a hands-off method suited to the hustle and bustle of Thanksgiving prep.  Or they can be grilled directly over coals, to bring char adn smoke with them when served. That latter method takes a little more time and attention, so why not use both? Put some packs of mixed vegetables on the back of the grill, and cook well-seasoned slabs of squash or rutabaga on the front until fork tender. Your guests will be dazzled. Move over, turkey: the sides are stealing the show!
Smoky Surprises: Flatbreads and Sweets
A truly wide selection of dishes are suited to grilling, when you think outside the box.  For fresh bread, try quickly grilled flatbreads, crisp and marked outside, pillowy and scented inside. For your onion dish try grilling halved sweet onions, then slicing them and saucing them with vinaigrette, as a sweet-tart counterpoint to the turkey.  And for a lighter, intriguing dessert after the heavy meal, how about grill-roasting a festive pineapple or some split apples, and serving with ice cream? 
Grilling presents many solutions to Thanksgiving's little issues. It takes much of the cooking out of the house and makes it hands-off, leaving the cook more time and space to visit with your guests. And of course smoke makes everything taste that much better. So try grilling your Thanksgiving dinner this year! You'll be thankful you did.
Never Overcook Again
Try this on Cinder Grill Today