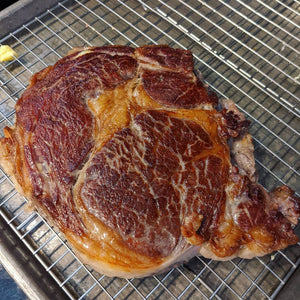 Tips For Success With Recipes
In cooking as in the rest of life, success is wonderful but not guaranteed. Each and every cook has had the experience of trying out new recipes only to end up with a disaster. The authors of recipes work hard to make them as clear as possible, but it's impossible to be rid of all room for error. Still, courage to the cook!  Cooking is a skill that develops over time and with practice, as well as by learning from others' experiences.
Therefore, we've written a few tips for success when cooking from recipes, to help you avoid many of the issues we've experienced.  The most important one, hence the first, is:
Before you start cooking anything, or even laying out ingredients and equipment,

read your recipes

entirely and carefully. This includes any notes, storage tips, and so on. Nothing si worse than finding out midway that you needed to dust the chicken with flour before sautéing it, or that you needed to divide that cup of sugar and only add half at this point not all of it.
Ease into things. We all see those amazing recipes that we want to make immediately, but the simpler the dish the more likely the success.

Get to know basic techniques

before tackling more complex combos. Similarly, if planning to make a dish for a special occasion, practice it at least once ahead of time so you know what to expect.
Look up unfamiliar terms and ingredients. The cookbook may have a glossary, but either way the Internet is always here to help the studious cook.
Take note of the term 'divided'.  In many recipes the term

divided

signals that this ingredient will not be added all at once. It will be used in more than one place during preparation. For example, "one tablespoon cinnamon, divided" can mean that half a tablespoon goes into the batter and the other half is sprinkled on top. The careful cook makes note of this, as ignoring it is one of the most common mishaps.
Similarly,

notice how the ingredients are described

. "One cup of sifted flour" means to sift the flour, then measure it. However, this is not the same as "one cup of flour, sifted," which is sifted after measuring, and the difference can mean success or failure in delicate recipes. 
Prep all the ingredients before you cook

, and make sure you've found all the dishes and cookware necessary. You really don't want to be frantically chopping your garlic while the ginger is burning in the pan, or to find you don't have a clean frying pan once all your stir fry ingredients are sliced up.
Learn the sensory cues. Have you heard the cook's saying, "

You must cook it until it's done

"? Often, the necessary changes are more important than precise times and temperatures. Pay attention to how sauteed food browns, how the sound of sizzling changes, how the smell develops, and so on. Using your senses teaches you what's happening as you cook, develops your intuition and increases your success as you follow your recipes.
Check the flavors and seasonings

at several points as you cook. This can pull success from failure, for instance by letting you know you used sugar rather than salt early enough to fix things. It's also a learning tool, as you track how flavors develop and seasonings blossom during cooking.
Feel free to experiment but be cautious. We wrote an entire guide to this topic,

"How To Modify A Recipe"

, so here we'll simply note that changing ingredients requires a thorough understanding of their roles in the recipes.
Cooking is a fun and worthwhile skill to develop, and getting the most out of recipes is a basic aspect. Hopefully these tips will help you become a more confident cook and increase your rates of kitchen success!
Never Overcook Again
Try this on Cinder Grill Today