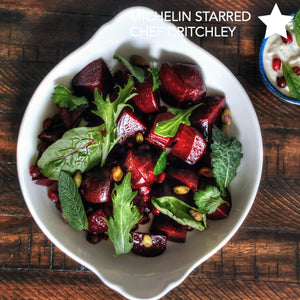 Roasted Beet Salad by Michelin Starred Chef John Critchley
Roasted Beet Salad by Michelin Starred Chef John Critchley
Want to liven up your protein routine? This mouth-watering salad created by Chef John Critchley is a rich source of folate and minerals such as calcium and iron!  This spectacular dish comes together in minutes but is bound to steal the show at your next potluck.
 Serves 2-4
Ingredients:
1 bunch medium red Beets, rinsed and cut in half

2 Tablespoons Extra Virgin Olive Oil

2 Sprigs Sage, lightly bruised 

1/2 tsp each Salt & Pepper or more to taste

1/2 cup Ricotta, Whole Milk (preferred but not mandatory for creamier texture)

1 teaspoon Honey, Raw

1/4 teaspoon Black pepper, coarse ground

2 Tablespoons Extra Virgin Olive Oil

1/4 teaspoon lemon juice

1 Tablespoon Chocolate Mint, chiffonade (tear into small pieces for a more rustic look)

1/2 each Lemon, zested

3 Tablespoons Toasted Pistachios

3 Tablespoons Pomegranate Seeds

1 Tablespoon Lemon juice

3 Tablespoons Extra Virgin Olive Oil

1/4 Cup Salad Greens (baby greens, Mesclun, Baby Arugula)
METHOD:
Pre-heat Cinder grill to 300°F.


Wash beets thoroughly with cold water and place in a medium bowl.


Toss beets with Olive oil, sage, salt & pepper until combined.


Place beets in oven bag and fold over leaving folded closure on bottom when placed in cinder grill.


Close the lid and set a timer for 40 minutes.


While beets are cooking, combine ricotta, honey, pepper, olive oil and lemon juice in a mixing bowl with a whisk and stir vigorously until completely smooth (for smoother consistency, use a small food processor).


Fold in the mint and lemon zest and reserve in a bowl for serving.


Once beets are completed, let sit for 10 - 15 minutes to steam in the bag to carryover (this also allows for easy peeling with a paper towel).


Peel beets, cut them into 1 inch pieces and place in a mixing bowl.


Add the pistachios and pomegranate seeds to the bowl and season with lemon juice, olive oil, salt & pepper.


Add the salad greens to finish with extra olive oil and sea salt and serve with the Ricotta on the side or drizzled on top of the beets.
Never Overcook Again
Get a FREE lifetime subscription to premium recipes like this from our Chef Partnership Program.