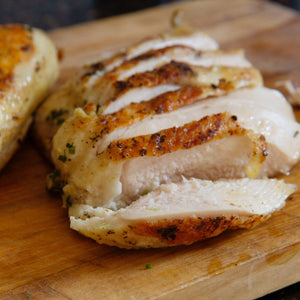 Tarragon Chicken Breast with Crispy Skin and Farro Salad

Why settle for dry, flavorless chicken breast? With Cinder, you can enjoy perfectly moist chicken with delicious, crispy skin every single time. Paired with a simple, nutritious farro salad, this is a dish that is sure to become a weeknight staple. While boneless, skinless breasts will still work well as a substitute, look for on-the-bone split breasts for maximum flavor.
SERVES 4
Ingredients
4 split chicken breasts (~1 1/2 inch thick)
2 tbsps fresh tarragon, finely chopped
½ lemon, juiced and zested
2 cups farro
2 stalks celery, finely diced
3 scallions, finely sliced
2 tbsps fresh parsley leaves, finely chopped
2 tbsps olive oil
Salt
Black pepper
METHOD
Set your Cinder device to your desired temperature (147°F is recommended for tender and juicy chicken). Season the chicken breasts with tarragon, lemon zest, salt, and pepper, then add to the grill.


While the chicken is cooking, prepare the farro salad. Bring a large pot of water to the boil and season well with salt. Add the farro and reduce to a simmer, cooking for around 30 minutes until the grains are tender but still retain some bite. Once cooked, strain and add to a bowl along with the lemon juice, olive oil, parsley, celery, and scallions. Season to taste with salt and pepper. Any extra parsley or celery leaves make for a pretty garnish.


When the chicken has come up to temperature, remove it from the grill, wipe down the plates, and set your device to sear mode. Sear the chicken for 90 seconds then serve, along with the salad, whole or carved into thick slices.
Never Overcook Again
Try this on Cinder Grill Today