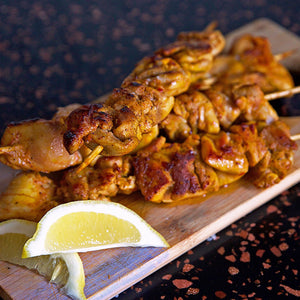 Saffron Chicken Skewers with Blackened Shishito Peppers

A single saffron crocus can take a year to bloom and produces only three strands of saffron. Luckily, then, it only takes a tiny quantity of this precious spice to add incredible depth of flavor to any dish. Here it's put to work in an overnight marinade, the result of which is perfectly tender chicken bursting with Mediterranean flavors. Be sure to pick up some bamboo skewers when you do your grocery shopping (metal could scratch the grill's plates).
SERVES 3-4 (6 Skewers)
Ingredients
2 pounds boneless, skinless chicken thighs
1&1/3 cup olive oil
1 lemon, zested and juiced
1/2 tsp saffron
1 tsp smoked paprika
1 small red chili, finely chopped
4 cloves garlic, finely chopped
1 lb shishito peppers
1 cup yogurt
Salt
Canola oil
METHOD
Whisk together the oil, lemon zest and juice, saffron, paprika, chili, and garlic in a large bowl and let stand for 20 minutes to allow the saffron to rehydrate. Chop the chicken into two-inch pieces and add to the bowl, seasoning well with salt. Leave covered in the fridge for at least four hours, preferably overnight.


Once the chicken has had plenty of time to marinate, remove bowl from the fridge and thread the chunks of meat onto the skewers. Set your Cinder device to your desired temperature (147°F is recommended for juicy and tender chicken) and add the skewers.


When the chicken is half an hour from being ready, set your oven to 475°F. Add the shishito peppers to a roasting tray, sprinkle with salt, and roast until blackened, around 20 minutes.


Once the chicken has come up to temperature, remove it from the grill and set your device to sear mode. Brush the hot plates with canola oil and return the skewers, searing until golden brown.


Serve the skewers with a dollop of yogurt and a pile of the blackened peppers, with flatbreads and lemon wedges on the side.



Note: Check your chicken's temperature with a thermometer to make sure it reaches 147°F. Your Cinder keeps food warm but don't let the the chicken stand for more than two hours at its target temperature.
Never Overcook Again
Try this on Cinder Grill Today