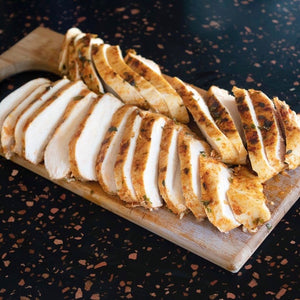 Marinated Chicken Breast with Charred Lemon
Chicken breast enhanced with some special spices would be just perfect for full protein intake after a great workout. Cinder's professional chefs craft each recipe with love and care. In this recipe, our chefs suggest charred lemon to provide an irresistible burst of mellowed tartness.
What you should know about Chicken Breast doneness
Want to know a secret? Unlike other sous-vide machines, Cinder does double-duty as a 450º restaurant-quality searer. No oil necessary. Hold food at ready temperature for up to 4 hours. Peace of mind, forever. Searing the chicken breast for 90 seconds results in a juicy taste and eye captivating appearance. We recommend a final chicken doneness around 165 °F.
Serves 2
INGREDIENTS:
2 chicken breasts
1 tbsp paprika
1 lemon, one half zested, the other half reserved
1 tbsp fresh parsley, finely chopped
1 tbsp fresh basil, finely chopped
1 tsp fresh thyme leaves
1 clove garlic, finely grated
2 tbsp olive oil
Salt
Pepper
METHOD:

Place the chicken breasts in a large bowl and season well with salt and pepper. Add the paprika, lemon zest, fresh herbs, garlic, and olive oil and massage to coat evenly. Cover and refrigerate for at least four hours, preferably overnight.


After allowing the chicken to marinate, set your Cinder device to your desired temperature (147°F is recommended for juicy and tender chicken) and add the breasts to the grill.


Once the chicken has reached its target temperature, remove it from the grill, wipe down the plates, and set your device to sear mode.


Take the remaining half a lemon and add it, cut side down, to the hot plates, searing for 90 seconds, until charred.


Next, brushing the plates with a little canola oil, return the chicken to the grill and sear for 90 seconds.


To serve, slice the chicken breast and squeeze over the charred lemon. This would be the perfect accompaniment for a Caesar salad.
Never Overcook Again
Try this on Cinder Grill Today